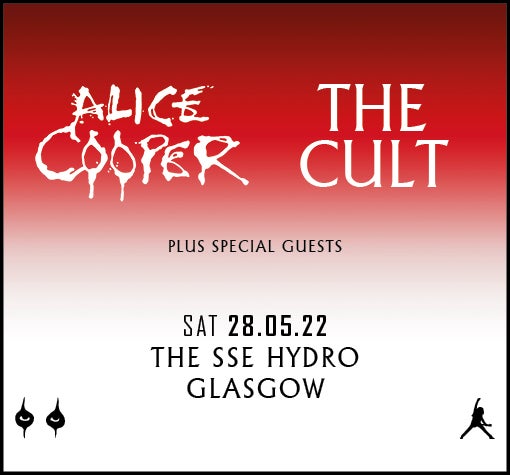 Event Information
SSE pre-sale 10am Tuesday 14 September 2021General on sale 10am Friday 17 September 2021
Two acclaimed headliners from both sides of the Atlantic will be touring UK arenas in what will be 2022's must-see event.
Rock n Roll Hall of Famer Alice Cooper returns to the UK alongside Rock Icons The Cult. Renowned for their unforgettable live shows, we can anticipate a dark, twisted trip through goth, psychedelia, macabre theatre and straight up rock anthems when these two giants take the stage.
Building once again on his legendary status, Alice scored a Top 5 UK chart album with "Detroit Stories" this year. The record showcases Alice's roots in the legendary Detroit rock scene of the late 60's and early 70s, celebrating the place where Alice's sound and show came into its own.
Alice continually delivers live, not just incredible music but awesome spectacle with snakes, guillotines, monsters and gore - wreaking havoc on stage nightly. Classics like "Under My Wheels," "I'm Eighteen," "Schools Out," "Poison," "Billion Dollar Babies," and "No More Mr Nice Guy" are staples and there are surprises every night, effortlessly drawn from one the greatest catalogues in rock and roll.
Co-headling this once-in-a-lifetime event, The Cult has revelled in a controversial and storied career. Emerging from the darkly romantic UK post-punk scene; Ian Astbury (vocals) and Billy Duffy (guitar), debuted with the album "Dreamtime" in 1984 and have embarked on a sonic exploration from post punk to goth, to psychedelia, through hard rock. Disclaimer: Please note that Level 3 is accessible by stairs only. Some areas of Level 2 and Level 3 may not be suitable for those with mobility difficulties, those who are not comfortable with heights or those who experience vertigo. We anticipate you should receive your tickets at least 21 days prior to the event you are attending. Thank you for your patience.
Standing: Over 14s only, Seating: Under 14s to be accompanied by adult / no under 5s