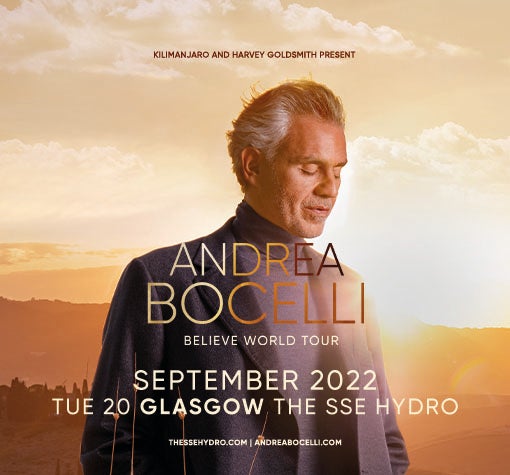 6:30pm Tue 20 September 2022
Event Information
SSE pre-sale 10am Wednesday 09 June 2021

General on sale 10am Friday 11 June 2021

Musically gifted from birth, Andrea Bocelli is one of the most celebrated singers in modern history, performing at major international events including the Olympic Games and the World Cup, as well as his own sell-out arena shows around the world. He has a Golden Globe, seven Classical BRITs and seven World Music Awards under his belt, plus a star on the Hollywood Walk of Fame. 

With a decorated career spanning more than a quarter of a century, having amassed millions of fans around the world with his emotive and instantly recognisable voice, Bocelli has collaborated with a host of A-list stars including Luciano Pavarotti, Ariana Grande, Jennifer Lopez, Christina Aguilera, Ed Sheeran, Dua Lipa, Céline Dion, Tony Bennett and many more.

Ultimately, Bocelli understands that all music is good for the soul in a way that taps into the most subtle nuances of humanity, irrespective of individual belief: "Good music brings with it a powerful message of peace and fellowship, teaching us about beauty, and helping us to open our hearts and minds." Disclaimer: Please note that Level 3 is accessible by stairs only. Some areas of Level 2 and Level 3 may not be suitable for those with mobility difficulties, those who are not comfortable with heights or those who experience vertigo. We anticipate you should receive your tickets at least 21 days prior to the event you are attending. Thank you for your patience.