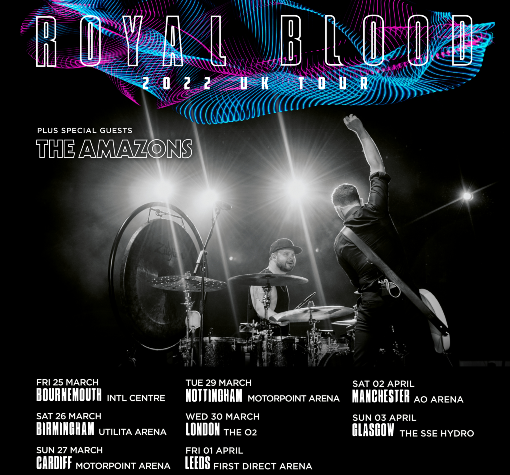 Event Information
SSE pre-sale 9am Thursday 06 May 2021General on sale 9am Friday 07 May 2021
From 'Trouble's Coming' to 'Boilermaker', Royal Blood's recent releases are making a phenomenal impact. After three consecutive Hottest Records courtesy of Annie Mac at Radio 1, another 50 million streams and the biggest North American airplay of their career, the release of their third album 'Typhoons' is set to make the duo bigger than ever before.
Royal Blood – Mike Kerr (vocals/bass) and Ben Thatcher (drums) – now add to the amplifying momentum they've generated by announcing details of a 2022 UK arena tour.
Royal Blood commented,
"Playing live is the DNA and sole purpose of our band. On stage with our fans is where we belong, and we cannot wait for this tour to be a reality!"
Disclaimer: Please note that Level 3 is accessible by stairs only. Some areas of Level 2 and Level 3 may not be suitable for those with mobility difficulties, those who are not comfortable with heights or those who experience vertigo. We anticipate you should receive your tickets at least 21 days prior to the event you are attending. Thank you for your patience.
Standing: Over 14s / Under 16s with adult, Seating: 8+ with adult 18+