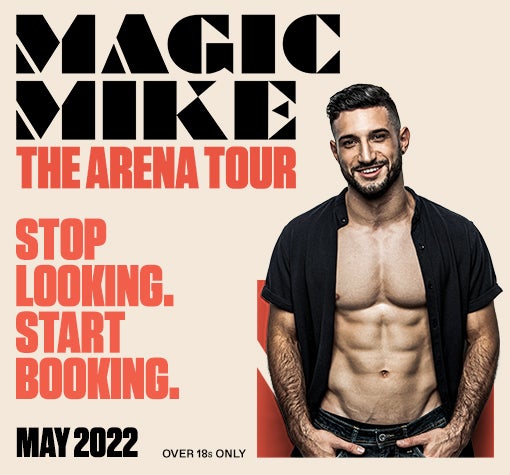 Event Information
SSE pre-sale 9am, Wednesday 24 March 2021General on sale 9am, Wednesday 24 March 2021
With two hugely successful films starring Channing Tatum and the hit productions of MAGIC MIKE LIVE in London, Berlin, Australia and Las Vegas, MAGIC MIKE has turned up the heat across the globe.
Magic Mike The Arena Tour builds on the dance, spectacle and fun of the much-loved films and London show. It will be a complete evening of unparalleled entertainment for guests aged 18 and up. A group of extraordinary artists from around the world will perform a sultry dance and acrobatic spectacular on an incredible scale. Sexy dance routines intertwined with one-of-a-kind acts, will be presented by a diverse cast of performers from around the world. Featuring incredible visual effects, a live DJ, and of course some of the hottest, most talented male dancers in the world. It's a celebration of fun and freedom that will blow the roof off the arena.
"This is not Magic Mike Live with more seats. Our arena tour is something totally different. After a year of isolation and frustration, we want to give women something that makes them feel alive again… a sort of celebratory revival that makes them want to stand on their chairs, dance with their friends and feel connected to each other. The show is a once-in-a-lifetime celebration of togetherness, sexuality and freedom that only an arena can hold. We want our guys to give our fans the best night of their lives with a party they'll never forget."
-
Magic Mike Live Co-Director Alison Faulk
Disclaimer: Please note that Level 3 is accessible by stairs only. Some areas of Level 2 and Level 3 may not be suitable for those with mobility difficulties, those who are not comfortable with heights or those who experience vertigo. We anticipate you should receive your tickets at least 21 days prior to the event you are attending. Thank you for your patience.
Over 18s only