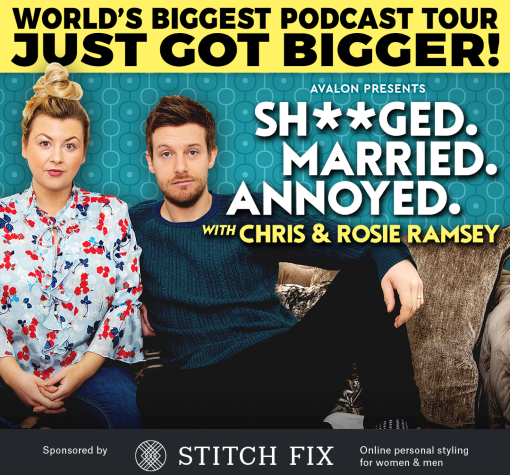 6:30pm Fri 10 December 2021
Event Information
SSE pre-sale 10am Wednesday 28 April 2021General on sale 10am Friday 30 April 2021
After having to reschedule their sold out, record-breaking first ever live Sh**ged. Married. Annoyed. podcast shows due to the pandemic, and with overwhelming demand from their SMA fans, Chris & Rosie Ramsey will be adding over 110,000 extra tickets across nine more arenas nationwide in 2021,(that's now 12 arenas under their belt). The live shows will now include a night at Glasgow's The SSE Hydro in December 2021.
Based on the award-winning, smash hit podcast, which launched in early 2019, Sh**ged.Married.Annoyed. regularly hits no.1 in the download charts and has reached over a whopping 66 million downloads worldwide to date and recently celebrated its milestone 100th episode.
In the same vein as their weekly chart-topping podcast, Chris & Rosie will be chatting all about life, relationships, arguments, annoyances, parenting, growing up and everything in between, but all in front of a live audience.
Chris & Rosie said,
"When we first announced the tour we were so excited to get out of our house and out on the road to perform for all the fans… the pandemic has increased this excitement to levels that are actually a bit frightening. There is a chance we will both just spontaneously combust the moment we finally get on stage. WE. CAN. NOT. WAIT. FOR. THIS."
Disclaimer: Please note that Level 3 is accessible by stairs only. Some areas of Level 2 and Level 3 may not be suitable for those with mobility difficulties, those who are not comfortable with heights or those who experience vertigo. We anticipate you should receive your tickets at least 21 days prior to the event you are attending. Thank you for your patience.
14+