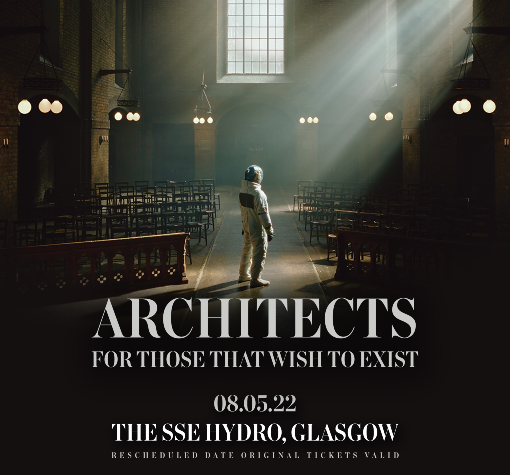 Event Information
Architects, originally scheduled to take place in The SSE Hydro on 23 February 2022 will now take place on 08 May 2022. Original tickets remain valid for the new date.
In November 2018, Architects stared grief in the face on the remarkable album Holy Hell: a stark picture of the darkness and despair that lay at the heart of losing a brother, band mate and best friend in Tom Searle, the group's founding guitarist who two years prior passed away following a private three-year battle with cancer.
The album, which bravely laid bare the band's emotions with a vulnerability that few would ever publicly open themselves up to, forged such a deep connection with fans new and old as to see the quintet – vocalist Sam Carter, drummer Dan Searle, bassist Ali Dean and guitarists Josh Middleton and Adam Christianson – headline arenas the world over, and move in excess of 200,000 equivalent album units. This was the band finding a voice for their, and their fans', innermost pain, and in turn cementing their place as one of rock music's most critically revered and commercially successful talents.
Two years removed from that journey, though with its lessons and spirit embedded in the fabric of their being, Architects have applied that same soul-searching introspection to their highly-anticipated new opus, For Those That Wish To Exist. An examination of the part we are all playing in the world's slow destruction, the band's ninth studio record tackles the biggest questions facing the future of our planet with their grandest, most ambitious work to date.
"This album was me looking at our inability to change to a way of life that would sustain the human race and save the planet,"
summarises principal songwriter Dan Searle.
"The human race has become out of control; the world is dying and it is all our fault. It's a manifestation of our collective behaviour that is running rampant, and at this moment desperately needs to be altered."
Disclaimer: Please note that Level 3 is accessible by stairs only. Some areas of Level 2 and Level 3 may not be suitable for those with mobility difficulties, those who are not comfortable with heights or those who experience vertigo. We anticipate you should receive your tickets at least 21 days prior to the event you are attending. Thank you for your patience.
Standing - Over 14s only / Under 16s with adult, Seating - 5+ (under 14s with an adult)