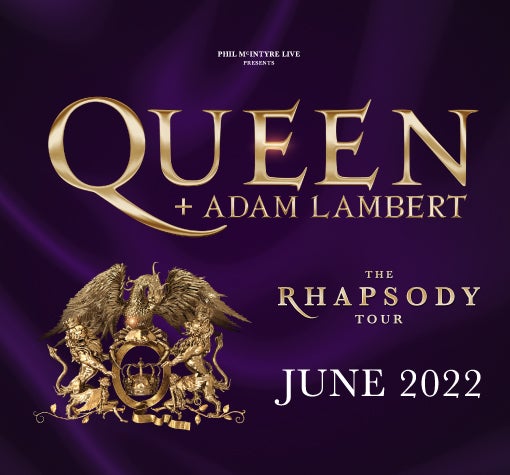 Event Information
SSE pre-sale 11am, Wednesday 10 February 2021General on sale 11am Wednesday 10 February 2021
Brian, Roger and Adam have announced a new and expanded set of 2022 dates for the UK and Europe Rhapsody shows. This includes the addition of two extra UK shows at The SSE Hydro.
Despite the wrench of being off the road, the band have certainly made the most of their enforced downtime, with Brian, Roger and Adam managing to remain active throughout 2020. Early in the first lockdown, the three artists connected up, triggered by a guitar track Brian posted on his Instagram grid. Working remotely, Roger and Adam added their parts to Brian's track, leading to a new version of We Are The Champions, their pioneering lockdown single You Are The Champions. With the proceeds going to frontline health workers, the track became a musical cry of support for all who were fighting the Coronavirus. The video featured many scenes from Covid wards, and included Roger's very own doctor daughter Rory Taylor. The video was viewed nearly 4 million times during its first month on YouTube, with the proceeds going towards the Covid-19 Solidarity Response Fund for the World Health Organisation.
Roger Taylor responded to the stay at home policy writing and recording his personal reflections of the time with an atmospheric solo single "Isolation" which gave him a No.1 rock chart single and video.
The Show Must Go On – and it will in 2022 when Queen + Adam Lambert return to touring and embark on their next chapter together. Disclaimer: Please note that Level 3 is accessible by stairs only. Some areas of Level 2 and Level 3 may not be suitable for those with mobility difficulties, those who are not comfortable with heights or those who experience vertigo. We anticipate you should receive your tickets at least 21 days prior to the event you are attending. Thank you for your patience.
Standing: Over 14s / Under 16s with adult, Seating: Under 14s with adult 18+