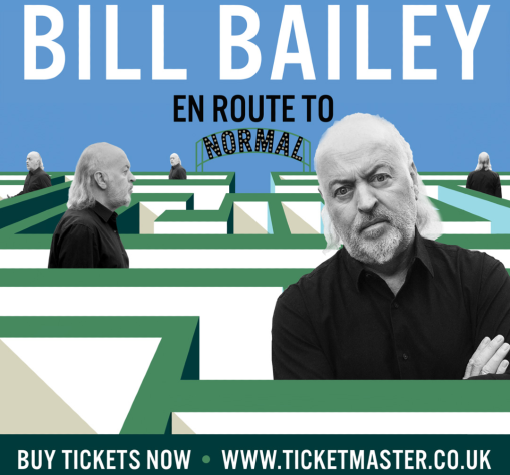 6:30pm Wed 29 December 2021
Event Information
SSE reward pre-sale 8am Wednesday 09 December 2020

General on sale 10am Friday 11 December 2020 

In this new show, Strictly Come Dancing's newest star tries to see a way through the weird unreality of our new world. Tracing lines through chaotic moments in our past, Bill seeks out parallels where human resilience and our ability to endure has got us through times of strife.

He recounts his own experiences of dealing with isolation, including his thoughts on the 'sounds of lockdown'. Through music, songs, and memories, Bill considers (among many other things!) our changing priorities, the wonder of dogs, how little things can keep you on track and his new-found love of skydiving.

EN ROUTE TO NORMAL is not just a funny, heartwarming mix of stories, music and history, but a personal mission to chart a course through these Strange Days!

'Bailey live is a joy to behold' ****
The Evening Standard  

'The finest stand-up comedian this country has to offer' 
The Times 

'Still one of the funniest and most brilliantly original comedians around'
The Telegraph

'Hilarious, unmissable... leaves you gasping' 
Daily Mirror  Disclaimer: Please note that Level 3 is accessible by stairs only. Some areas of Level 2 and Level 3 may not be suitable for those with mobility difficulties, those who are not comfortable with heights or those who experience vertigo. We anticipate you should receive your tickets at least 21 days prior to the event you are attending. Thank you for your patience.