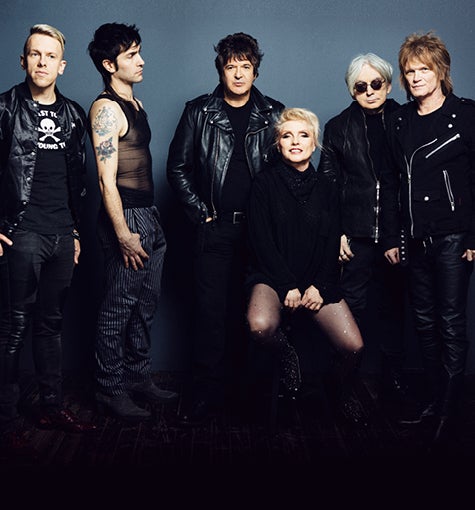 6:30pm Sat 20 November 2021
Event Information
SSE reward pre-sale 10am Wednesday 21 October 2020General on sale 10am Friday 23 October 2020 
Blondie
, one of the most influential bands to emerge from New York's punk scene, have announced a 10 date UK tour to begin in
November 2021
, their first UK tour in 4 years. Iconic frontwoman/songwriter
Debbie Harry
, guitarist/conceptual mastermind
Chris Stein
and powerhouse drummer
Clem Burke
, are eager to get back on the road, along with long standing band mates bassist
Leigh Foxx
, guitarist
Tommy Kessler
and keyboardist
Matt Katz-Bohen
.
Joining Blondie for this run and making this a double female-fronted band tour, is Garbage, led by quintessential rocker Shirley Manson, who was invited to induct Blondie into the Rock and Roll Hall of Fame in 2006. Garbage have themselves sold more than 17 million albums and many of their own singles are now considered alt-rock classics. The two bands have toured together before on their highly successful and critically acclaimed "Rage and Rapture" tour of North America in 2017.
Debbie Harry says,
"Next year's UK tour is more meaningful to me perhaps than the very first time Blondie played there in the mid '70s. The UK has always been a special place to us, and being able to come back to perform there after sitting out most of 2020 is very exciting."
She adds,
"Blondie toured with Garbage during 2017 and we look forward to doing it again. We had a wild ride! All tours are rarely the same, however, I really hope the new Blondie/Garbage concert events are even better. I have always been a fan of Garbage (and of Shirley Manson dating back to her days in Goodbye Mr Makenzie). Along with Butch, Steve, Duke and Eric this band set the stage on fire. I can't wait to play these shows with them!"
"We're all looking forward to returning to perform in our favourite place in the world."
, adds Clem Burke
"Against the odds, hoping for a happy & healthy November 2021 Blondie U.K. Tour!"
Shirley Manson says,
"We are thrilled to be joining Blondie on this tour of the UK. They have been an enormous influence and inspiration to all of us in Garbage and it is always an honour to share the stage with such trailblazers."
The Blondie live show is an still an experience in itself, with the classic hits like 'Heart Of Glass', 'Atomic', 'Tide Is High', 'Maria', 'Sunday Girl', 'Rapture' and 'Call Me' naturally blending with their last studio album
Pollinator
- offering a treasure trove of newly adored songs including singles 'Too Much', 'Long Time' and 'Fun.'
Pollinator
, released in 2017, soared to Number 4 on the UK charts, making it the group's first Top 5 entry in over 18 years, with The Guardian calling it "Blondie's classic late-1970s band sound, albeit with a modern sheen." Their last UK tour, supporting the album, was a roaring success. The Independent called their London show "One glorious, eternal party with a band who feel like family." Disclaimer: Please note that Level 3 is accessible by stairs only. Some areas of Level 2 and Level 3 may not be suitable for those with mobility difficulties, those who are not comfortable with heights or those who experience vertigo. We anticipate you should receive your tickets at least 21 days prior to the event you are attending. Thank you for your patience.
Under 14s accompanied by an adult (no under 5s)