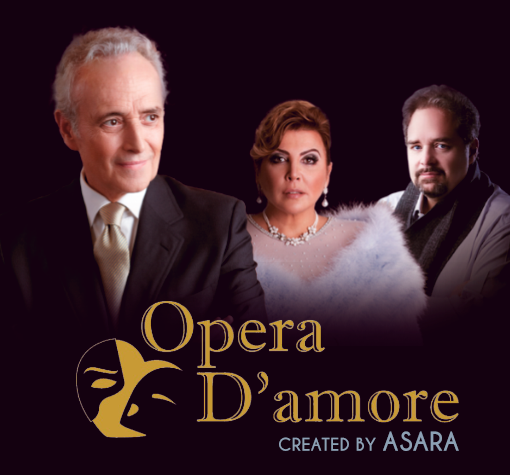 Event Information
SSE reward pre-sale 10am Monday 19 October 2020General on sale 10am Wednesday 21 October 2020 
Welcome to Opera D'amore, a remarkable, breathtaking show that combines different well known opera acts, where the most popular love scenes, duets, arias and overtures will come to life in the most wonderful way ever imagined. A show the world has never seen before. Created by ASARA.
The cast live on stage consist of stars like:
Maestro José Carreras, Maria Guleghina, Marco Berti, Nadia Krasteva, Kiril Manolov, Ilina Mihailova
and many more. Live orchestra and choir conducted by
David Giménez
.
Some of the masterpiece opera acts are: "G. Puccini´s
Tosca & La Bohème
", G. "Verdi´s
La Traviata & Rigoletto
", "G. Bizet´s
Carmen
", "P.Mascagni's "
Cavalleria Rusticana
".
It will all be presented with the most up-to-date virtual scenery and innovative stage technologies ever used. 3D virtual scenes and 3D mapping will take us to historical and magical places where the performed acts take place. An interactive decor never seen and used before for an opera performance.
The name
Opera D'amore
meaning "Opera for Love" is undeniably chosen on purpose – the spectacular show aims to give a divine feeling with a special touch to the heart of every viewer. An inspirational festive of love and music for all the senses. Disclaimer: Please note that Level 3 is accessible by stairs only. Some areas of Level 2 and Level 3 may not be suitable for those with mobility difficulties, those who are not comfortable with heights or those who experience vertigo. We anticipate you should receive your tickets at least 21 days prior to the event you are attending. Thank you for your patience.
6 years of age and over