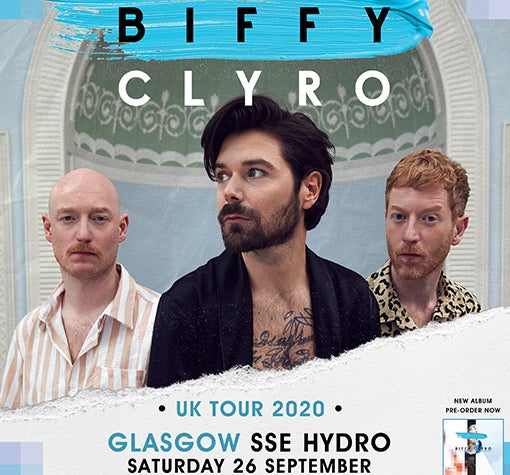 6:30pm Sat 26 September 2020
Event Information
A statement from the band:
Due to the ongoing Coronavirus outbreak, we have decided to delay ticket sales for the forthcoming UK tour. If you have already pre-ordered, you will still be in the pre-sale. We are very much looking forward to the tour and while the dates and venues remain unaffected, we feel that due to the current uncertainty the time is not right to make tickets available. 
We send our love. Please take care of each other. Stay safe and healthy. 
Simon, James and Ben x
Having recently announced details of their eagerly anticipated new album 'A Celebration of Endings', Biffy Clyro now reveal details of their first full-scale UK arena tour since 2016. The "champions of stadium rock" (The Guardian) start the tour with two huge shows in Scotland, and the schedule also includes gargantuan 20,000 capacity venues in London and Manchester.
The news follows the release of two very different songs from the new album. The apocalyptic synths and bombastic beats of lead track 'Instant History' demonstrated the band's continuing evolution, while the instant grat track 'End Of' presented a mix of their visceral roots and their ongoing flair for unpredictability.
The reaction demonstrates that Biffy Clyro remain at the top of the powers. 'Instant History' was premiered as Annie Mac's Hottest Record in the World and was added straight to Radio 1's B-list. It also went straight to the A-list at Absolute, Radio X and Virgin. And then 'End Of' was premiered by Zane Lowe at Beats 1. 
In addition, Biffy Clyro will also play Radio 1's Big Weekend in Dundee in May.
Biffy Clyro's approach to making 'A Celebration of Endings' was simple. Keep things fresh and maintain the wide-eyed wonder of what they do. Surprise themselves and each other. Push things to their furthest extremes. Their first building block in embracing the new was to turn to an old friend. In came Rich Costey, producer of 'Ellipsis'.
"This is a very forward-looking album from a personal perspective and a societal perspective," explains frontman Simon Neil. Sonically, Biffy Clyro playfully push the outer reaches of their sound to the extreme – often in the case of the same song. 
'A Celebration of Endings' is the band's eighth record and follows their previous two studio albums – 'Ellipsis' (2016) and 'Opposites' (2013) – both of which went straight to #1 on the Official Albums Chart.
TERMS & CONDITIONS
This event is for fans only and these special conditions are in place to ensure that tickets are purchased for personal use only and are not resold for profit and/or through unauthorised resale sites.
A strict limit of 4 tickets per person (and per household) per event applies. Any tickets purchased over this limit may be cancelled and invalidated (in which case you will be refunded).
Tickets must not be purchased with the intention of reselling them for commercial purposes and/or profit.
If you choose to receive a mobile ticket, only genuine mobile tickets will be accepted for entry (we'll give you full instructions on how to access your mobile tickets after you book). Print outs and/or screenshots of mobile tickets will not be accepted for entry
If you can no longer use your tickets and are not eligible for an exchange or refund, you may resell them through (Ticketmaster Fan-to-Fan Ticket Exchange) or another authorised resale site (please check artist page on GigsinScotland.com for further details).
You may not resell or offer to resell tickets for this event through any unauthorised resale site, or for commercial purposes and/or profit. 
Any tickets purchased, resold or offered for resale in breach of these special conditions may be cancelled and invalidated (in which case you will be refunded).
In the event of any inconsistency between these special conditions and any other applicable terms and conditions, these special conditions will apply.
  Disclaimer: Please note that Level 3 is accessible by stairs only. Some areas of Level 2 and Level 3 may not be suitable for those with mobility difficulties, those who are not comfortable with heights or those who experience vertigo. We anticipate you should receive your tickets at least 21 days prior to the event you are attending. Thank you for your patience.