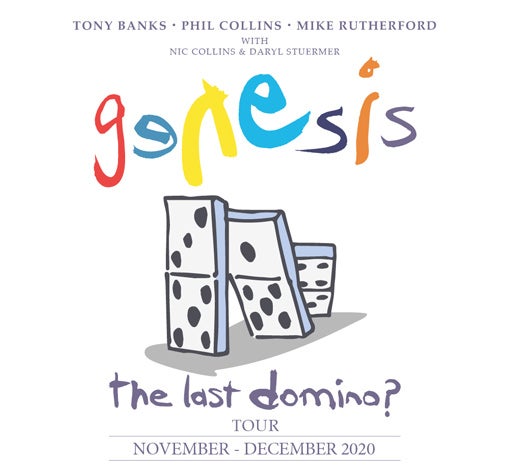 Event Information
EXTRA DATE ANNOUNCED - 12 DECEMBER 2020

Genesis, who are among the biggest selling recording artists of all time and one of Britain's most internationally renowned bands, will be touring for the first time in 13 years.

 

The Last Domino? Tour 2020 starts in Dublin on 16 November and will be Tony Banks, Phil Collins and Mike Rutherford's first live outing together since the globe-trotting, sell-out Turn It On Again: The Tour in 2007. They will be joined on stage by Nic Collins on drums, and the bands long time guitar and bass player Daryl Stuermer.

 

Genesis are one of the world's biggest selling and most successful bands of all time. They have sold an estimated 100 million albums and have played to sold-out stadiums and arenas all over the world for decades. Disclaimer: Please note that Level 3 is accessible by stairs only. Some areas of Level 2 and Level 3 may not be suitable for those with mobility difficulties, those who are not comfortable with heights or those who experience vertigo. We anticipate you should receive your tickets at least 21 days prior to the event you are attending. Thank you for your patience.