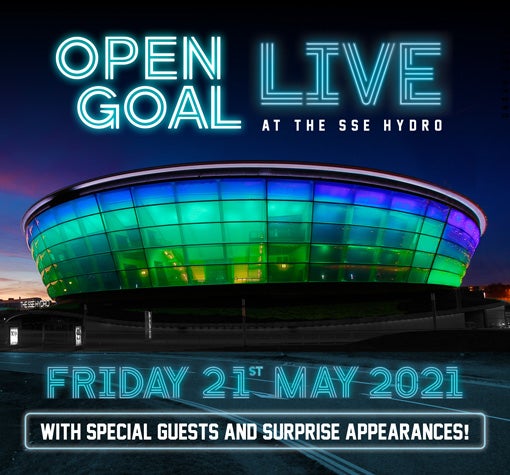 Event Information
Open Goal Live, originally rescheduled to 29 January 2021 will now take place on 21 May 2021.
A message from the organiser:
The last 7 days has seen the whole of the nation in party mode again with 2021 now set-up to be a fantastic year as Scotland are set to take part in the Euros!  
It has provided the country with a much needed lift following the challenges we have all faced this year which have unfortunately resulted in the postponement of Open Goal Live! At The SSE Hydro from its original dates.  
Given the current COVID restrictions that remain in place, it is evident it will be extremely difficult to host the event on its current date of 29th January 2021.  
As such, we have decided to postpone the show to a period of time that will give it the best chance to take place and finally fill the Hydro with all 11,000 of you!  
The date of the new show will be 21st May 2021 and we plan to make it the best way to kick-off what will be an incredible summer of Football for Scotland!  
We can't wait to welcome you all to Hydro to begin the summer of 'Boogying' in style! See you there! Disclaimer: Please note that Level 3 is accessible by stairs only. Some areas of Level 2 and Level 3 may not be suitable for those with mobility difficulties, those who are not comfortable with heights or those who experience vertigo. We anticipate you should receive your tickets at least 21 days prior to the event you are attending. Thank you for your patience.
16+