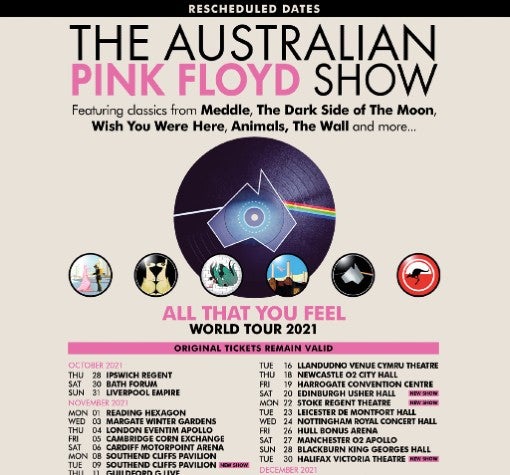 6:30pm Sat 4 December 2021
Event Information
Rescheduled from 28 November 2020A message from the organiser:
Due to the current Coronavirus outbreak and the government measures implemented to limit its spread, The Australian Pink Floyd October & November 2020 shows have been postponed. The rearranged dates will instead take place in October, November & December 2021. Customers are advised to keep hold of their tickets as they will be valid for the rescheduled dates.
Artist Statement
G'day,
As the world goes through these unprecedented times, The Australian Pink Floyd Show first & foremost hope that everyone has been safe & healthy in recent months.
As much as we look forward to getting back on the road & playing the music we all love it's become clear that the sensible pathway to doing so is a long one. To that end & having consulted with our agents, promoters & getting the best advice we can, we have decided that the safe thing for all is to postpone our 2020 shows & come back in 2021.
All tickets for 2020 shows will be valid for 2021 plus we will add a few additional dates when we will have the pleasure to invite NHS workers to join us as our complimentary guests & give us an opportunity to thank them for their incredible work. Look out for details on that.
Stay safe & see you in 2021.
The Australian Pink Floyd Show
Disclaimer: Please note that Level 3 is accessible by stairs only. Some areas of Level 2 and Level 3 may not be suitable for those with mobility difficulties, those who are not comfortable with heights or those who experience vertigo. We anticipate you should receive your tickets at least 21 days prior to the event you are attending. Thank you for your patience.
U14s with adult 18+