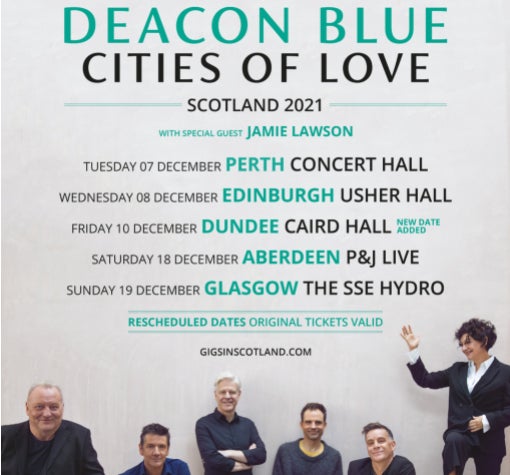 6:30pm Sun 19 December 2021
Event Information
This event has been rescheduled from 12 December 2020 to 19 December 2021.Artist statement:
It is with sadness that we have to tell you our 2020 Cities of Love tour has been postponed to 2021. Tickets for all the rescheduled shows remain valid and your ticket agent will be in contact regarding your booking. We are longing to perform again.
There is some good news, we have added new shows to the tour, with extra dates in London and Manchester, new shows in Dundee and Sheffield and a bigger venue in Birmingham (your original tickets are still valid for this show). Tickets for these shows are on sale now and we are happy to announce that Jamie Lawson will be supporting us throughout the tour.
We're working on bringing something to you before the end of the year that we hope you'll enjoy. More details on that soon.
Sending you love and good health, Deacon Blue.
" Disclaimer: Please note that Level 3 is accessible by stairs only. Some areas of Level 2 and Level 3 may not be suitable for those with mobility difficulties, those who are not comfortable with heights or those who experience vertigo. We anticipate you should receive your tickets at least 21 days prior to the event you are attending. Thank you for your patience.
Standing over 14s only, U16s with adult | Seated U16s with adult (no U5s)