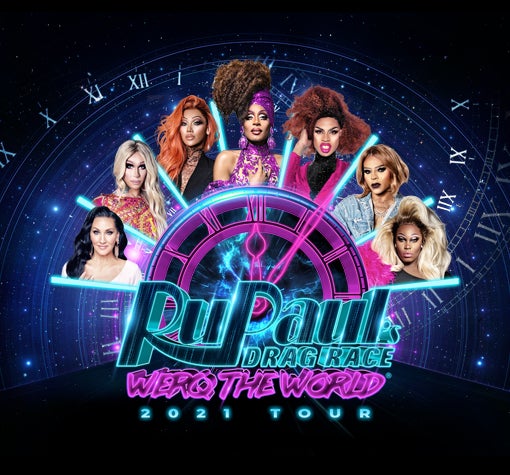 Event Information
Rescheduled from original date 08 May 2020.
The Official RuPaul's Drag Race World Tour returns with an all-new production for 2021! An experiment gone wrong has sent Michelle Visage spiraling through time with no way of returning "home". Join Asia O'Hara, Jaida Essence Hall, Kameron Michaels, Plastique Tiara, Vanessa Vanjie Mateo, Yvie Oddly, including Stars from the latest US, UK, & Canadian Seasons, as they journey through iconic periods of time in the hopes they will find their way back to 2021. Presented by Voss Events in collaboration with World of Wonder and VH1.
A message from the organiser:
Hey Squirrel Friends,
At Voss Events and World of Wonder, there is no higher priority than the health and wellbeing of our patrons, artists and employees. We have decided to postpone the RuPaul's Drag Race Werq The World tour to May and June 2021 to accommodate everyone's health in the hopes a vaccine will be made available worldwide. The entertainment industry is working very hard to bring back the shows you know and love by creating and enforcing Health & Safety guidelines for any show you may attend in a post COVID-19 world. We believe that once we have both of those in our possession that this will be the best time to "bring back your girls!
RuPaul'sDrag Race Werq The World will now take place next year and the best news is, you don't have to do a single thing!! All tickets will be automatically transferred to the new show date. Now go wash your hands and don't forget your mask, we'll see you later this year so we can all enjoy the charisma, uniqueness, nerve and talent in the safest environment possible!
Sincerely,
Werq The World & Voss Events Disclaimer: Please note that Level 3 is accessible by stairs only. Some areas of Level 2 and Level 3 may not be suitable for those with mobility difficulties, those who are not comfortable with heights or those who experience vertigo. We anticipate you should receive your tickets at least 21 days prior to the event you are attending. Thank you for your patience.
All ages (U14s with adult)