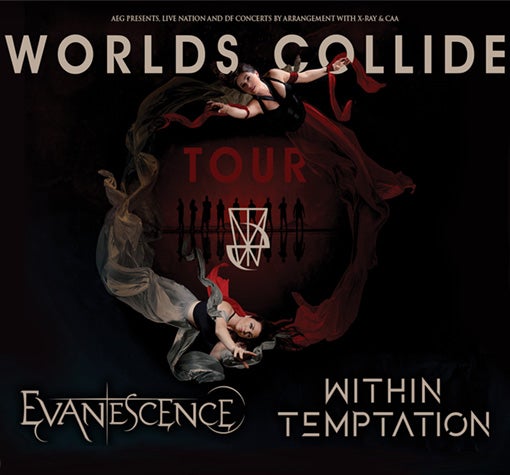 Event Information
EVANESCENCE & WITHIN TEMPTATION POSTPONE THEIR EUROPEAN TOUR 
Due to the rapidly evolving nature of current events Evanescence and Within Temptation are forced to postpone their massive co-headline European tour until later this year.  
The tour which, which was due to kick off in Brussels on April 4th, will now move to later this year. Specific information dates for the rescheduled shows will be available shortly.  All existing tickets & VIP Packages will remain valid for the rescheduled dates.
Evanescence singer Amy Lee said "As many of you have already predicted, it is beyond our control that our upcoming European tour will have to be postponed. The shows WILL go on, and we are already busy locking in the new dates for this fall. We are disappointed to make you wait, but fully agree that your health, safety and lives are more important than a concert. We will be releasing the first new music from our new album very soon, and are going to turn our full focus toward that till the show can go on. Stay tuned for new dates and new music. We love you!"
Within Temptation singer Sharon Den Adel said: "We are sorry to announce that our tour will be postponed. Nevertheless in the meantime we will continue our preparation for the most kick ass tour ever and more good news, new WT material will see daylight before the tour starts. We can't wait to see you when the time comes. In the meantime take care & be safe❣️"
Evanescence are currently in the studio working on a brand new album, and will be releasing the first offering from it very soon. 
Within Temptation is working on brand new music which will be released in the near future to coincide with the new tour dates. Disclaimer: Please note that Level 3 is accessible by stairs only. Some areas of Level 2 and Level 3 may not be suitable for those with mobility difficulties, those who are not comfortable with heights or those who experience vertigo. We anticipate you should receive your tickets at least 21 days prior to the event you are attending. Thank you for your patience.
Standing over 14s | Seated U14s with adult 18+