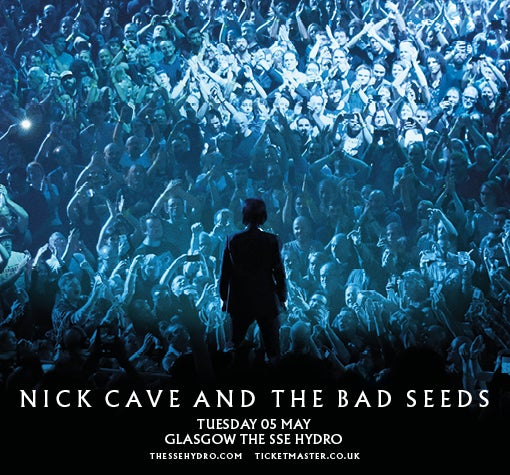 Event Information
SSE pre-sale 10am Wednesday 23 October 2019General on sale 10am Friday 25 October 2019
Important Information
To prevent ticket touting, the name of the ticket purchaser will be PRINTED on all tickets purchased. This person MUST attend the concert. They will be asked to present matching PHOTO ID to gain entry to the venue.
 
IF THE ID DOES NOT MATCH, ENTRY MAY BE REFUSED. DO NOT FORGET YOUR PHOTO ID!
 
The ticket purchaser must enter the concert ACCOMPANIED by all their guests. Guests will not be allowed entry without the ticket purchaser being present.
Each person wishing to enter the event requires a valid ticket. All tickets are a revocable license.
 
AEG reserve the right to cancel tickets purchased by businesses, traders, or persons acting on their behalf, who engage in the commercial resale of tickets
Nick Cave and The Bad Seeds have announced a Spring 2020 European and UK tour.
Regarded as one of the world's greatest live acts, the band will perform in 19 countries including 6 shows in the UK.
On Nick Cave and The Bad Seeds Live:
"Joyous and unexpectedly triumphant" The Guardian ★★★★★
"Tense and thunderous at times, tender and cathartic at others. It's masterful" The Independent ★★★★★
"An extraordinary response to the unimaginable" The Telegraph ★★★★★
Nick Cave and The Bad Seeds' seventeenth studio album Ghosteen was released digitally on 4 October, and has been widely received as their best work ever. Vinyl and CD will be released on Friday 8 November.
On Ghosteen:
"...Stunning double album that sets desperation against empathy and faith. On one level, it shouldn't be surprising that it's as good as it is...Nevertheless, listening to Ghosteen, it's very hard indeed not to be taken aback" The Guardian ★★★★★
"Fantastical splendour" The Times ★★★★★
"Grand in design and filled with rare beauty and profound, poetic lyrics" The Sun ★★★★★
"A masterpiece of melancholy" Rolling Stone 4.5 ★★★★ Disclaimer: Please note that Level 3 is accessible by stairs only. Some areas of Level 2 and Level 3 may not be suitable for those with mobility difficulties, those who are not comfortable with heights or those who experience vertigo. We anticipate you should receive your tickets at least 21 days prior to the event you are attending. Thank you for your patience.
Standing over 14s only