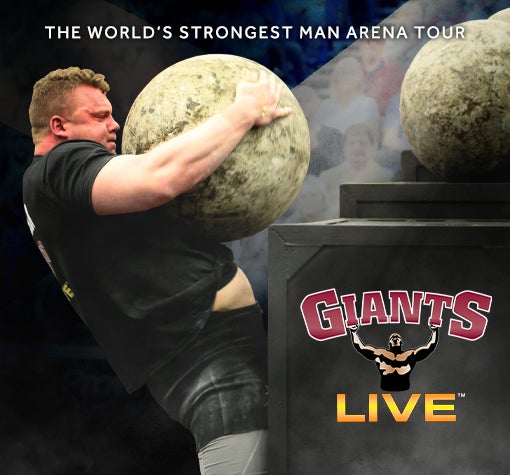 4:00pm Sat 10 October 2020
Event Information
SSE pre-sale 10am Wednesday 16 October 2019

General on sale 10am Friday 18 October 2019

 

World's Strongest Man Tour Finals – The SSE Hydro, Glasgow 12 of the STRONGEST men on the planet! 5 EPIC events! 1 JAW-DROPPING Tour Finale! 

What a way to end the 2020 World's Strongest Man Arena Tour! 3 golden tickets to World's Strongest Man are on the line and this is the last chance saloon for the world's BIGGEST Giants - their final chance to do battle and prove themselves worthy of a place at the World's Strongest Man.

You can bet the Giants will be seeing the year out in true strongman style – the spectacle, the electric atmosphere, the edge-of-seat intensity – it all reaches its peak at the Tour Finale!

The 2020 Tour Finals will take place at The SSE Hydro, Glasgow and is filmed for Channel 5 as part of the World's Strongest Man Series. It is the Giants first ever Arena show in Scotland - so you know they'll be bringing out the big guns! The World's Strongest Man Arena Tour is more than just jaw-dropping feats of strength and fiercely fought competition - it is LIVE strength sport and entertainment at its absolute biggest and best!

You've seen it on TV, but a strongman show of this scale is best witnessed live, raw and up- close to all the rip-roaring, shirt-ripping, world-record-breaking action!

VIP tickets are available and come with the opportunity to meet your favourite Giant athletes in person—but act quickly, tickets are expected to sell out fast for this one! Disclaimer: Please note that Level 3 is accessible by stairs only. Some areas of Level 2 and Level 3 may not be suitable for those with mobility difficulties, those who are not comfortable with heights or those who experience vertigo. We anticipate you should receive your tickets at least 21 days prior to the event you are attending. Thank you for your patience.