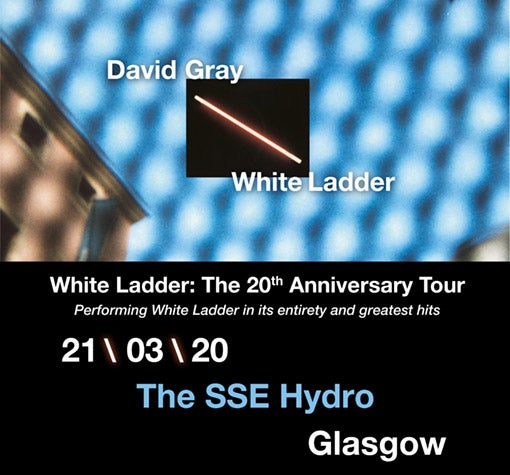 Event Information
SSE pre-sale 9am Wednesday 09 October 2019General on sale 9am Friday 11 October 2019
Multi-platinum, multi-Brit and Grammy-nominated, British singer-songwriter David Gray is today announcing a 12-date UK and European arena tour; White Ladder: The 20th Anniversary Tour, to celebrate the trailblazing album's 20-year anniversary. The 7 million record selling and one of the greatest and most heart-warming word-of-mouth successes in music, White Ladder will be performed by Gray with all the original band members and with all the original equipment to recreate the record in its entirety, plus a set of the greatest hits.  
An expanded 20th anniversary edition of White Ladder will be released on 2xCD, 4xLP, and digital formats. This will include a special remastered edition of the iconic album plus White Ladder era previously unreleased rarities, B-sides and demos. Physical versions will be accompanied by an extensive booklet with writings by Gray about the whole White Ladder experience - from the people involved, to the stories behind the songs and memorable shows.   
Celebrating its 20th anniversary, it's interesting to consider the extraordinary aftermath of White Ladder. Its success spawned a new wave of singer-songwriters in an acoustic boom that resonates to this day, a soul-baring lineage that can be directly traced from David Gray to the all-conquering Ed Sheeran. Indeed, Ed is a fan, known to cover 'This Year's Love' live. Fellow world beating British superstar Adele is also an admirer, citing 'This Year's Love' as one of her all-time favourite break-up songs.  
White Ladder remains an album of great depth and startling beauty, a superlative collection of emotional songs capturing a very special moment in time, as raw and immediate as when it was recorded. It's one of 11 complex, ambitious and heartfelt albums Gray has recorded in a career than spans 25 years. Some, like White Ladder, have been big commercial successes (2002's A New Day At Midnight and 2005's Life In Slow Motion were UK chart toppers), others have been more intimate and experimental. All feature music that is both intimate and broad, intensely personal yet capable of speaking to the masses. Disclaimer: Please note that Level 3 is accessible by stairs only. Some areas of Level 2 and Level 3 may not be suitable for those with mobility difficulties, those who are not comfortable with heights or those who experience vertigo. We anticipate you should receive your tickets at least 21 days prior to the event you are attending. Thank you for your patience.
Over 8's. Under 16s with adult