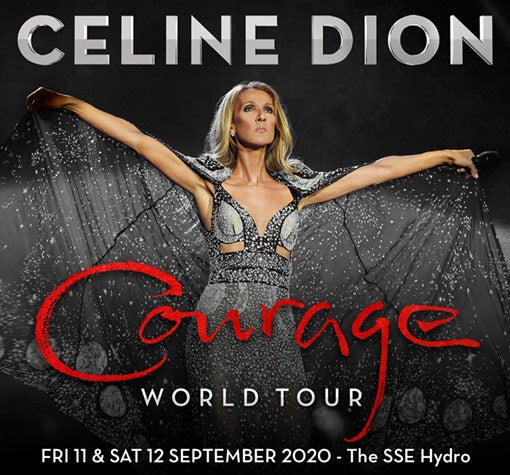 Event Information
SSE Reward Pre-sale 10am Wednesday 02 October
General On Sale 10am Friday 04 October 

One of the most immediately recognised and widely respected superstars in pop music history, Celine Dion, announces additional dates for her COURAGE WORLD TOUR, which includes new UK dates in Manchester, Birmingham, Glasgow and London in September 2020.  

 

The COURAGE WORLD TOUR, which supports Celine's first English album in 6 years, will see the global megastar return to UK shores following her phenomenal headline slot at British Summer Time, Hyde Park in July this year.  The COURAGE WORLD TOUR marks her first tour in the UK since the critically acclaimed Celine Dion Live in 2017 which garnered much praise across the nation and cemented her status as one of the most renowned performers in the world.

Last week, Celine Dion released three new tracks, from her highly anticipated upcoming album also entitled Courage. "Imperfections," "Lying Down," and "Courage" represent an exciting new creative direction for Celine and fans will have a chance to hear songs from the new album throughout the journey of the COURAGE WORLD TOUR. Courage, an eclectic mixture of beautiful ballads and edgy up-tempo tracks, will be available everywhere on the 15 November and is available for pre-order now. Disclaimer: Please note that Level 3 is accessible by stairs only. Some areas of Level 2 and Level 3 may not be suitable for those with mobility difficulties, those who are not comfortable with heights or those who experience vertigo. We anticipate you should receive your tickets at least 21 days prior to the event you are attending. Thank you for your patience.