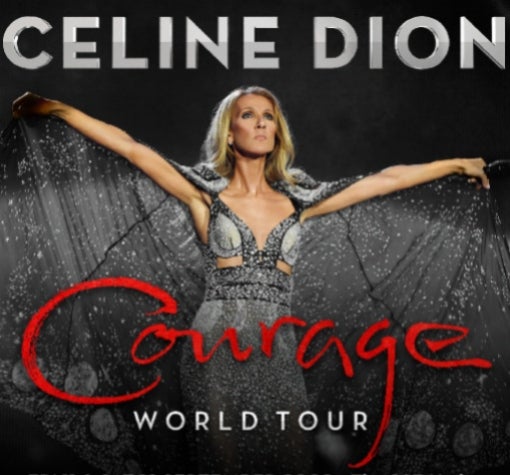 Event Information
Rescheduled from 11 & 12 September 2020. 

A message from the organisers:

CELINE DION 'COURAGE WORLD TOUR' TO RESUME IN 2021

Rescheduled Show Dates Announced for the UK

LAS VEGAS – June 10, 2020 – Celine Dion today announced her European tour including the UK leg of her COURAGE WORLD TOUR is being rescheduled into 2021 due to COVID-19 pandemic.

Celine and Concerts West/Marshall Arts Ltd take the welfare and health of patrons as a top priority. Safety permitting, the COURAGE WORLD TOUR will now start the European leg of the tour on 19 March, 2021 in Paris, France and will play 32 cities across Europe which will include Manchester, Birmingham, London and Glasgow.

"I had really hoped that we'd be back on stage sometime this year, but nothing is more important than everyone's health and safety," said Celine. "The whole world has been going through such difficult times during this pandemic, and my heart goes out to all those who have suffered. I know we'll eventually get through this together, and we'll make up for all that lost time. I miss doing our shows....I can't wait to sing with all of you again. Stay safe everyone…see you soon!"

Tickets purchased for the original 2020 tour dates remain valid for the 2021 dates.

Ticketholders are requested to retain their tickets. For further ticket inquiries, ticketholders should contact their original point of purchase. Disclaimer: Please note that Level 3 is accessible by stairs only. Some areas of Level 2 and Level 3 may not be suitable for those with mobility difficulties, those who are not comfortable with heights or those who experience vertigo. We anticipate you should receive your tickets at least 21 days prior to the event you are attending. Thank you for your patience.