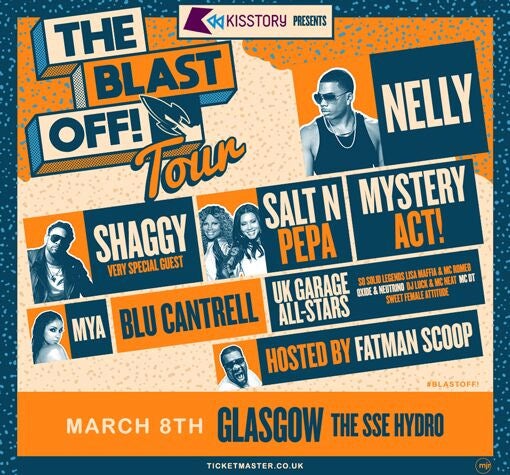 Event Information
SSE pre-sale 10am Wednesday 16 October 2019On sale 10am Friday 18 October 2019
COMING TO UK & IRELAND
FEBRUARY & MARCH 2020  
FEATURING AN ALLSTAR US LINE-UP
WITH
NELLY / SALT N PEPA / SHAGGY / MYA / BLU CANTRELL & MORE  
+
SPECIAL HOST FATMAN SCOOP  
Next year a very special, one-of-a-kind tour is coming to arenas across Ireland and the UK in February and March. With a huge all-star line-up, The Blast Off Tour! features live performances from top US artists Nelly, Salt N Pepa, Shaggy, Mya and Blu Cantrell.  
This is the first time a tour of this format has been done in the UK and will be coming to Cardiff, Nottingham, Leeds, Manchester, Newcastle, Glasgow, Liverpool, London and Birmingham throughout March while kicking off in Dublin on February 28th.  
The show will also be hosted by American hype man and hip-hop personality Fatman Scoop and includes exclusive appearances from UK garage stars So Solid members Lisa Maffia and MC Romeo, scene pioneer MC DT and the British duos Oxide & Neutrino, DJ Luck & MC Neat and Sweet Female Attitude.  
Speaking to some of the iconic artists performing about the tour they say;  
Nelly
"I'm so excited to be a part of this tour with so many amazing artists. A tour like this hasn't happened in the UK before, so it's a real honour to be involved with it. My album 'Country Grammar' turns 20 this year – we gotta turn this thing up and get the party going in 2020!"  
Salt N Pepa
"It's been over 30 years since we first got together, and we still out here. We can't put into words how much we're looking forward to coming over to the UK to perform on this tour. The bill is incredible, and we're so excited to get up on stage and play some songs for y'all."  
Shaggy
"I'm really looking forward to this tour and performing again in the UK. It's a fun bill and I'm excited to share the stage with these great artists."  
Blu Cantrell
"When I was asked about this tour, saying no just wasn't an option. Performing alongside some of my oldest friends and singing some of my favourite songs is going to be so much fun! I have so much love for the UK, and I can't wait to come back and perform for you all."  
Fatman Scoop
"This tour is gonna be DOPE. I've always felt welcome in the UK, and I'm honoured to be hosting such a huge bill. This is gonna be legendary, everyone involved with this tour is gonna kill it every single night."  
Lisa Maffia
"There's nowhere I love playing more than my UK home, and what better way to play it than with a ton of the biggest and best in Garage? We all can't wait for this thing to get started, it's gonna be insane. You don't want to miss this!" Disclaimer: Please note that Level 3 is accessible by stairs only. Some areas of Level 2 and Level 3 may not be suitable for those with mobility difficulties, those who are not comfortable with heights or those who experience vertigo. We anticipate you should receive your tickets at least 21 days prior to the event you are attending. Thank you for your patience.
Standing: Over 14s