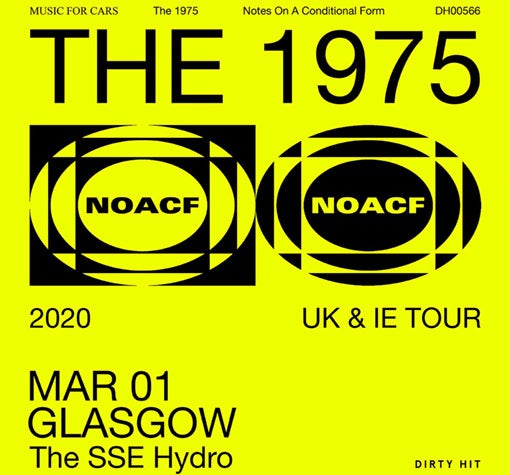 Event Information
SSE Reward Pre-sale 9am Wednesday 18 September
General On Sale 9am Friday 20 September 
Ticket Limit: 4pp
£1 from each ticket sold will go to One Tree Planted, a non profit organisation that plants trees all over the world to fight climate change, protect biodiversity, empower communities and restore our planet. Their aim is to reforest the planet, one tree at a time.
The 1975's latest album 'A Brief Inquiry Into Online Relationships' was the their third consecutive #1 record in the UK and cemented their status as one of the biggest and most exciting bands in the world.   
The Manchester four piece have had a phenomenal rise to fame over the past few years, selling out shows across the world, being nominated for the Mercury Prize Album of the Year and most recently winning BRIT Awards for Best Group and Best Album as well as Ivor Novello Awards for Songwriters Of The Year and Best Contemporary Song. Having headlined this year's Reading & Leeds festival, The 1975 will tour the UK & Ireland in February & March 2020. These shows will be the first full production shows of the new 'Notes On A Conditional Form' era.  
Important Ticket Information
This event is for fans only and these special conditions are in place to ensure that tickets are purchased for personal use only and are not resold for profit and/or through unauthorised resale sites.
A strict limit of 4 tickets per person (and per household) per event for the pre-sale and 6 tickets per person (and per household) for the general onsale per event applies. Any tickets purchased over this limit may be cancelled and invalidated (in which case you will be refunded).
Tickets must not be purchased with the intention of reselling them for commercial purposes and/or profit.
Your full name will appear on your ticket(s) and/or be tied the account you used to purchase tickets, and you must present photo ID matching your order to enter the event.
If you purchase more than one ticket, your guest(s) must be with you at the time of entry or will be refused entry.
If you can no longer use your tickets and are not eligible for an exchange or refund, you may resell them through the authorised resale site (please check the artist's website for further details - www.the1975.com).
You may not resell or offer to resell tickets for this event through any unauthorised resale site or for commercial purposes and/or profit.
Any tickets purchased, resold or offered for resale in breach of these special conditions may be cancelled and invalidated (in which case you will be refunded).
In the event of any inconsistency between these special conditions and any other applicable terms and conditions, these special conditions will apply.
Disclaimer: Please note that Level 3 is accessible by stairs only. Some areas of Level 2 and Level 3 may not be suitable for those with mobility difficulties, those who are not comfortable with heights or those who experience vertigo. We anticipate you should receive your tickets at least 21 days prior to the event you are attending. Thank you for your patience.
Standing Over 14s only, U16s with adult | Seated over 5s only, U16s with adult