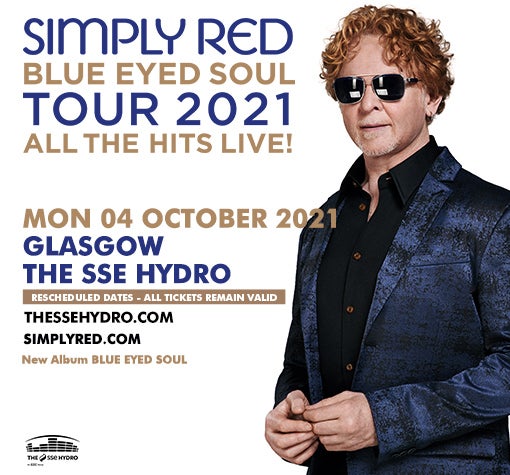 6:30pm Mon 4 October 2021
Event Information
Rescheduled from 9 October 2020.

A message from the organiser:

Out of consideration for the safety and welfare of our fans, band and crew, Simply Red are rescheduling their autumn tour dates to 2021. Tickets will be honoured for the rescheduled dates, so hold onto your tickets and we'll see you next year!

Mick said 'We held on for as long as we could wishing that things would return to some semblance of normality. My voice is in great shape, we were ready and raring to go in the hope that we might cheer you up by performing some of your favourite songs. However, it's now clear that our tour in the autumn must be put back to next year. See you in 2021 when hopefully the World will have this virus under better control' Disclaimer: Please note that Level 3 is accessible by stairs only. Some areas of Level 2 and Level 3 may not be suitable for those with mobility difficulties, those who are not comfortable with heights or those who experience vertigo. We anticipate you should receive your tickets at least 21 days prior to the event you are attending. Thank you for your patience.