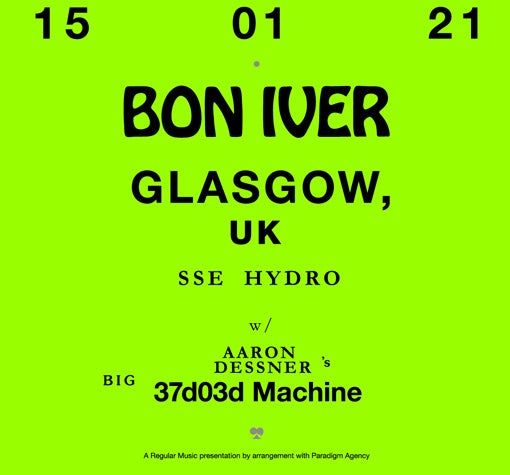 6:30pm Fri 15 January 2021
Event Information
Rescheduled from 01 May 2020
Artist statement:
It is with great care and empathy to all involved that we announce the rescheduling of the below spring tour dates in Europe and the UK to January 2021.  
The entire Bon Iver team has been closely monitoring this unprecedented worldwide health situation, and it is under the guidance of those more knowledgeable than us, that we have determined rescheduling to be the safest path forward for all involved. We hope that this is the best preventative action we can take against the spread of coronavirus (COVID-19).  
All tickets will be valid for the rescheduled dates below. Unfortunately, we are unable to include a rescheduled Birmingham date at this time; refunds for the show scheduled for April 27th will be available at the point of purchase. We are working on solutions for Amsterdam and Lisbon; tickets for A Coruña will go on sale in the coming weeks.   
Stay safe and healthy. We look forward to seeing you soon. Disclaimer: Please note that Level 3 is accessible by stairs only. Some areas of Level 2 and Level 3 may not be suitable for those with mobility difficulties, those who are not comfortable with heights or those who experience vertigo. We anticipate you should receive your tickets at least 21 days prior to the event you are attending. Thank you for your patience.
Standing over 14s only/U16s with adult 18+ | Seated U16s with adult 18+