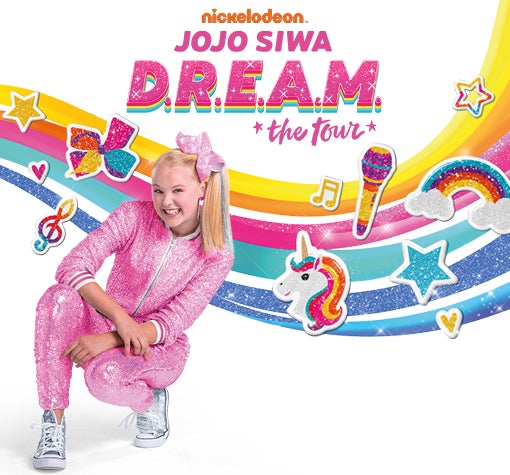 6:00pm Wed 30 October 2019
Event Information
SSE Reward Pre-sale 10am Wednesday 19 June
General on sale 10am Friday 21 June 
Nickelodeon and AEG presents today announce that YouTube sensation JoJo Siwa will be bringing her D.R.E.A.M. tour to the UK and will be making stops in Glasgow, Manchester, Birmingham and London.
JoJo Siwa: "I'm so excited to bring my tour to the UK – it's one of my favourite places to visit and I can't wait to see everyone! Thank you so much Nickelodeon and AEG for helping this dream come true - we're going to have the best time ever!"
Nickelodeon superstar JoJo Siwa is a YouTube personality, singer, dancer, entrepreneur, social media influencer, New York Times bestselling author and star on Nickelodeon's Lip Sync Battle Shorties. Siwa connects with her fans through many channels: via social media, where she currently has over 8.4 million followers on Instagram, over 17.5 million followers on TikTok, 430,000 Twitter followers, almost 580,000 likes on Facebook, and on YouTube, over 9.7 million subscribers with over 2.3 billion views; through her SIWANATORZ club, which stands against negativity and bullying; through her global reach of consumer products including her signature bows, accessories, apparel, arts and crafts, cosmetics, home goods and party supplies; and with her hugely popular singles, "Boomerang," which has been viewed almost 709 million times and is RIAA certified platinum, "Kid in a Candy Store" which is RIAA certified gold, "Hold The Drama," and "D.R.E.A.M." JoJo has release 2 EP's Celebrate released in April and D.R.E.A.M. The Music released in November last year.
Siwa just launched her first animated shorts series, The JoJo & BowBow Show Show starring Siwa and her furry best friend BowBow. She also works alongside Nick Cannon in Nickelodeon's hit competition series Lip Sync Battle Shorties. She has also appeared on various Nickelodeon live-action series including School of Rock and The Thundermans. Siwa performed at Nickelodeon's 2018 Kids' Choice Awards and has won two blimps for Favorite Viral Music Artist in 2017 and Musical YouTube Creator in 2018. This summer, she performed at Nickelodeon's 2018 Kids' Choice Awards Mexico.
Siwa and Nickelodeon also have a licensing partnership for consumer products inspired by the star. She is a top licensed property with popular consumer products across multiple categories at retailers around the world. In May, the Licensing Industry Merchandisers' Association (LIMA) named JoJo the number one live-action licensed property. More than 41 million of her iconic bows have been sold globally, and she has a popular line of Danskin apparel and athleisure line at major US retailers. Disclaimer: Please note that Level 3 is accessible by stairs only. Some areas of Level 2 and Level 3 may not be suitable for those with mobility difficulties, those who are not comfortable with heights or those who experience vertigo. We anticipate you should receive your tickets at least 21 days prior to the event you are attending. Thank you for your patience.
Under 14s with an adult