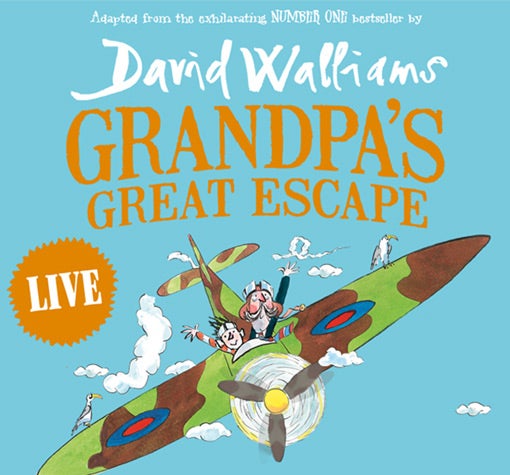 1:00pm Fri 3 January 2020
Event Information
SSE Reward pre-sale 8am Monday 03 June
General on sale 8am Tuesday 04 June
Many years ago, Grandpa was a World War II flying ace. But when he is sent to old folk's home Twilight Towers – run by sinister Matron Swine – it's up to Grandpa and his grandson, Jack, to plot a daring escape. Little do they know, the wicked matron is on to them…  
The first ever stage adaptation of Grandpa's Great Escape, the exhilarating number one bestselling children's book by actor and comedian David Walliams, will tour UK arenas this Christmas – the perfect treat for all the family.  
The wonderous stage design for this arena spectacular will see venues around the UK transformed into London and its landmarks, including Buckingham Palace and the River Thames, from thousands of feet in the sky, as Grandpa's life size Spitfire soars through the air.  
Grandpa's Great Escape Live follows the acclaimed television film which aired on BBC One in December 2018, and will be directed by Tony® Award nominee Sean Foley (The Catherine Tate Show Live & The Painkiller). The set has been created by entertainment architects Stufish Productions (Beyonce & Jay Z, Madonna, The Rolling Stones). The script adaptation of the book has been written by Kevin Cecil (Little Britain & Gangsta Granny television film). Disclaimer: Please note that Level 3 is accessible by stairs only. Some areas of Level 2 and Level 3 may not be suitable for those with mobility difficulties, those who are not comfortable with heights or those who experience vertigo. We anticipate you should receive your tickets at least 21 days prior to the event you are attending. Thank you for your patience.
No age restriction