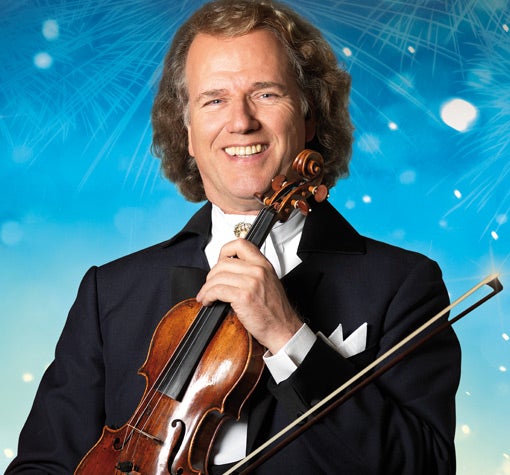 Event Information
SSE Reward pre-sale 10am Wednesday 15 May
General on sale 10am Friday 17 May

André Rieu, the Dutch "King of Waltz", will bring his Johann Strauss Orchestra back to the UK and Ireland in April and May 2020 for eight magical nights.

Dubbed the Maestro of the Masses (New York Times) and a Weapon of Mass Happiness (The Spectator), André Rieu returns with his 60-piece Johann Strauss Orchestra, the largest private orchestra in the world, the Platin Tenors and many international soloists. In 2018 André performed for 100.000 UK/Ireland fans!

André Rieu went on to build an empire out of a worldwide classical music touring act. Around 110 people go on the road with him each year. 2018 was the Dutch violinist and conductor's most successful year, with more than 700,000 tickets sold worldwide. And he dreams of performing on the moon one day. The audience can look forward to fantastic melodies from film, musical, opera and operetta as well as traditional music and of course they are invited to waltz the night away in an unforgettable evening of music and dance. 

André Rieu firmly believes that classical music is made for everybody to enjoy, not just for an elite. At his concerts everything is allowed: laughing, weeping, singing, dancing in the aisles. Rieu has sold more than 40 million CDs and DVDs (his current albums are Romantic Moments II - CD and Love in Maastricht – DVD). He has reached 30 number 1 chart positions and 500 platinum awards. His YouTube videos reached far over a billion views so far and 4.5 million subscribers follow the King of Waltz on Facebook.

André Rieu has been married for over 40 years and lives with his wife Marjorie on a romantic castle from 1452 in his hometown Maastricht in the Netherlands. The couple has two sons and five grandchildren. Disclaimer: Please note that Level 3 is accessible by stairs only. Some areas of Level 2 and Level 3 may not be suitable for those with mobility difficulties, those who are not comfortable with heights or those who experience vertigo. We anticipate you should receive your tickets at least 21 days prior to the event you are attending. Thank you for your patience.