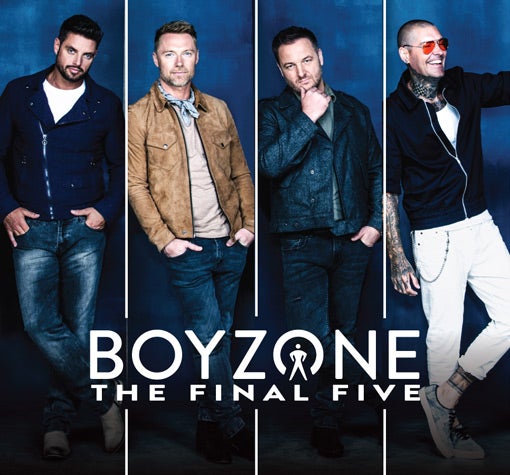 6:30pm Wed 16 October 2019
Event Information
SSE Reward pre-sale 10am Mon 29 April
General on sale 10am Tues 30 April

The Final Five sees BOYZONE play five select venues across the UK as the finale to their farewell tour. Don't miss the Boyz as they play their LAST EVER shows in Birmingham, Glasgow, Nottingham, Manchester and London.

A five night run at one of London's iconic venues, The London Palladium, was always going to be a fitting farewell to celebrate 25 years together, an intimate and historic venue where the band can feel a true connection to their fans. Yet following the success of the sell-out 'Thank You & Goodnight' tour and being inundated by demand from disappointed fans, the Boyz listened and cleared their diaries to make THE FINAL FIVE happen; adding a select further four UK arenas to the London performances.

"It's a bitter sweet day for us as we announce our final ever shows. The response to our 'Thank You & Goodnight' album and tour has been truly amazing. We feel incredibly lucky for the continued support our fans have shown over the last 25 years. These final ever Boyzone shows give us all one last chance to make some more special memories together. We can't wait to go out on the ultimate high as we take our final bow with The Final Five."

After six UK #1 singles, five UK #1 albums and 25 years together, the iconic Boyzone released their final album 'Thank You & Goodnight'in November 2018. In January 2019 the band embarked on a sold-out arena tour of the UK, Ireland, Asia, Australia and New Zealand with more Asian dates announced for this June. The Final Five brings to an end a career filled with so much music and happiness. Disclaimer: Please note that Level 3 is accessible by stairs only. Some areas of Level 2 and Level 3 may not be suitable for those with mobility difficulties, those who are not comfortable with heights or those who experience vertigo. We anticipate you should receive your tickets at least 21 days prior to the event you are attending. Thank you for your patience.