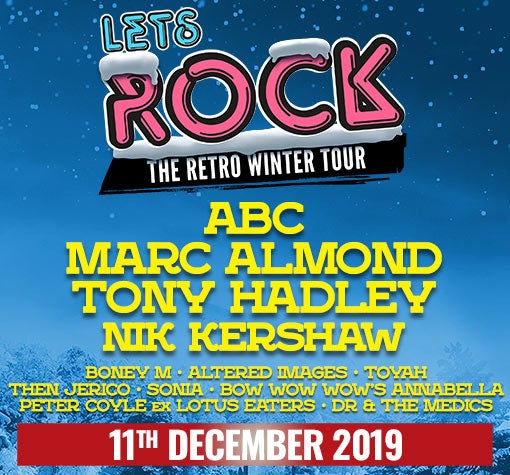 6:30pm Wed 11 December 2019
Event Information
SSE Reward pre-sale 9am Wednesday 10 April
General on sale 9am Friday 12 April

LET'S ROCK – THE RETRO WINTER TOUR 2019
After the hugely successful Let's Rock Christmas Arena show in 2017, we are thrilled to announce our new Let's Rock Retro Winter Tour, celebrating the best music of the 80s.

TONY HADLEY, MARC ALMOND, JIMMY SOMERVILLE and NIK KERSHAW are headlining the shows in Nottingham and Wembley, with ABC, MARC ALMOND, TONY HADLEY and NIK KERSHAW headlining our Glasgow show. Support acts at all venues include BONEY M, ALTERED IMAGES, TOYAH, JONA LEWIE, THEN JERICO, SONIA, BOW WOW WOW'S ANNABELLA, PETER COYLE ex LOTUS EATERS and DR & THE MEDICS.

The Let's Rock Retro Winter Tour promises to be the perfect evening of non-stop hits from some of the world's biggest selling, and best-loved artists and is the ideal way to get into the spirit of the season. Disclaimer: Please note that Level 3 is accessible by stairs only. Some areas of Level 2 and Level 3 may not be suitable for those with mobility difficulties, those who are not comfortable with heights or those who experience vertigo. We anticipate you should receive your tickets at least 21 days prior to the event you are attending. Thank you for your patience.