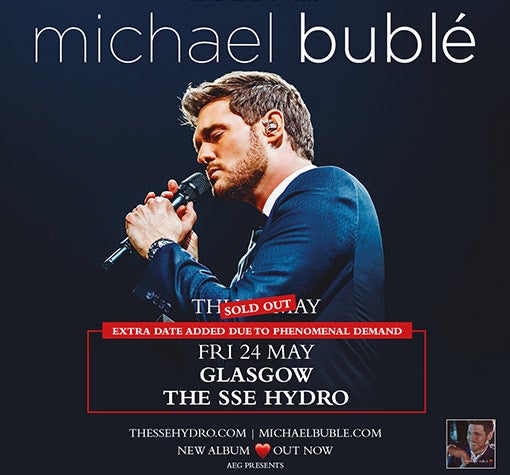 Event Information
Pre-sale 9am Wednesday 21 November 2018
On sale 9am Friday 23 November 2018

Grammy-award winning global megastar Michael Bublé will return to the UK next year with a brand new tour kicking off in May 2019. 

Michael Bublé's 2019 UK tour will hit the road on Mon 20 May at Birmingham's Genting Arena before travelling to Glasgow, Manchester, London and finishing up at the Leeds First Direct Arena on Mon 3 June. 

Michael Bublé is without a doubt one of the best entertainers in the world. Oozing charisma, velvety vocals and smooth moves, he connects with his audience like no other performer. Michael returned to the stage in August after a lengthy absence. Shows included Dublin, London and Sydney, where he performed for over 150,000 fans. Michael has already completed five sold-out world tours, won four Grammy Awards and sold over 60 million records over the course of his extraordinary career. Disclaimer: Please note that Level 3 is accessible by stairs only. Some areas of Level 2 and Level 3 may not be suitable for those with mobility difficulties, those who are not comfortable with heights or those who experience vertigo. We anticipate you should receive your tickets at least 21 days prior to the event you are attending. Thank you for your patience.