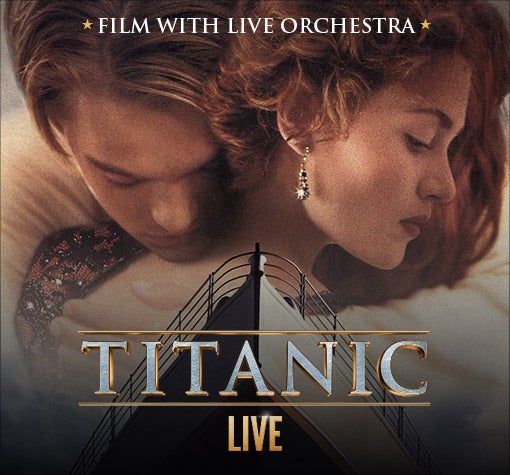 Event Information
Pre-sale 10am Thur 25 Oct 2018
On sale 10am Fri 26 Oct 2018

HE BIGGEST SELLING ORCHESTRAL SOUNDTRACK OF ALL TIME PRESENTED 
LIVE WITH ORCHESTRA – UK TOUR 2019

TITANIC LIVE WITH FULL SYMPHONY ORCHESTRA 
Showcasing a uniquely familiar soundtrack that will forever be a part of cinematic history, Titanic Live sees James Horner's epic score take centre stage with a symphony orchestra, choir and Celtic musicians, whilst the film is projected on a vast HD screen.

The arena tour, presented by Senbla and taking place in April 2019, will begin in Liverpool at the Echo Arena, before sailing onto Manchester, Leeds and Glasgow. 

More than a century later, the fascination with the Titanic hasn't faded – if anything, it has become even stronger; a cautionary legend that speaks to our times of great technological advances and even greater perils, as well as fearless love and devotion. Jack's effervescent, charismatic persona is counterbalanced by Rose's reserved yet confident demeanor to create a relatable and charming chemistry, a romance that seemed perfect, against the odds. 

James Horner composed for over 100 motion pictures, frequently collaborating with directors such as James Cameron and Ron Howard. Other scores include Avatar (the only film to surpass Titanic in box office sales), Braveheart, Aliens, Apollo 13, Star Trek II and more recently, The Amazing Spiderman.

"What was so nice about this experience was seeing the audience react; in the middle of the movie they break out into applause for the orchestra, they break out in laughter at the right moments, they break out into tears at the right moments. To share that with people, that's what makes live entertainment so special."

-Jon Landau, Titanic Live, premiere, April 2015

The 1997 blockbuster Titanic, written and directed by James Cameron, became one of the most prolific movies of all time, grossing over $2 billion at the box office and winning 11 Academy Awards including Best Picture and Best Director and more importantly, Best Original Song and Dramatic Score. 

"This experience is beyond anything I've seen in the theatre. When hearing the music out front and dominating, you really realise how the music drives the emotion of the movie. I felt these big surges of powerful emotion whether it was the elation of the love story or the dread, the fear. A beautiful experience." 
-James Cameron, Titanic Live premiere, April 2015

Titanic Live is a production of Avex Classics International                                                    Disclaimer: Please note that Level 3 is accessible by stairs only. Some areas of Level 2 and Level 3 may not be suitable for those with mobility difficulties, those who are not comfortable with heights or those who experience vertigo. We anticipate you should receive your tickets at least 21 days prior to the event you are attending. Thank you for your patience.