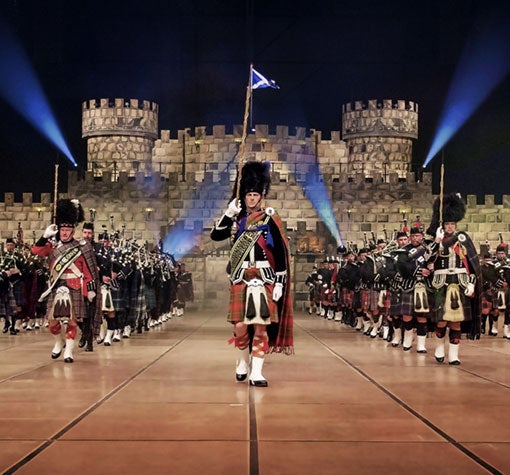 Event Information
Pre-sale 9am Monday 03 Sept 2018
On sale 9am Wednesday 05 Sept 2018

Music Show Scotland is one of the largest indoor Scottish music productions in the world and combines Celtic music and dance with impressive show elements, humor and entertainment. The cast consists of over 200 pipers, drummers, dancers, musicians and vocalists, performing in front of an imposing castle decorum of 15 meters high and 40 meters wide. Comprising several floors, towers and battlements, the castle is unique in the world and can be adjusted in size to fit most any venue.

In front and on top of this enormous castle decorum, the artists present all facets of Scottish and Irish culture in a varied music show, which catches a hold of the audience for over 3 hours. The impressive sound of the pipes and drums batters through the hall, accompanied by a woodwinds and brass ensemble, whilst subsequently, emotive ballads indulge the spectators in a pindrop silence.

The house band blends in some modern rock and pop flavours. Dynamic and energetic dances carry the audience through the Highlands and Ireland. In beautiful costumes, the Highland dancers and Irish step dancers take on the stage to perform both traditional and modern choreographies, the latter especially tailored for the Music Show Scotland. Cannon salvos and fireworks create a rousing finale that will send the visitors home with an unforgettable experience.

The idea of the Music Show Scotland was born in the Netherlands. The "Highland Valley Pipes and Drums", located in Borculo (NL), organized successful" Celtic Nights " which were enthusiastically visited by many visitors. The idea was born and Beerten Events started the "Music Show Scotland", which grew to become the largest Scottish indoor show in the World. There are ten trucks required to transport the life-sized castle, consisting tonnes of steel and wood, including the complete light- and sound equipment. Disclaimer: Please note that Level 3 is accessible by stairs only. Some areas of Level 2 and Level 3 may not be suitable for those with mobility difficulties, those who are not comfortable with heights or those who experience vertigo. We anticipate you should receive your tickets at least 21 days prior to the event you are attending. Thank you for your patience.