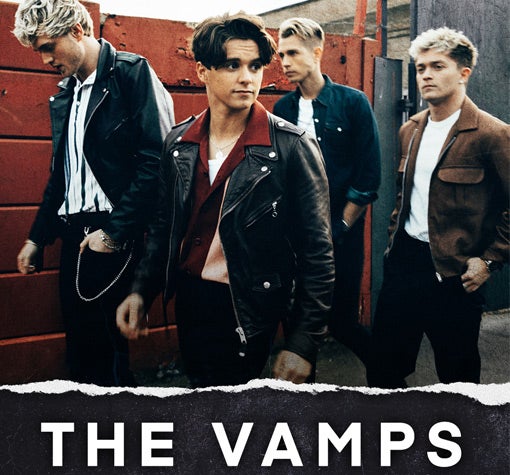 Event Information
Pre-sale 10am Thu 26 July 2018
On sale 10am Sat 28 July 2018
THE VAMPS ANNOUNCE FOUR CORNERS UK TOUR
The Vamps are certainly having a busy Summer! Fresh from a US promo tour where they performed on some of the biggest TV shows in America, they now return to the UK with the announcement of their Four Corners UK & Ireland 2019 Tour and premiere the new video for Just My Type. On top of this, they then release their highly anticipated new album Night & Day (Day Edition) Friday 13th July.
The Vamps kick off their Four Corners UK & Ireland 2019 Tour on Saturday 27th April at Plymouth's Pavilions, and then spend the next 5 weeks visiting all corners of the UK before wrapping the dates in Bournemouth on 1st June. Tickets go on sale Saturday 28th July at 10am. The Vamps will be joined on the tour by pop-rock trio New Hope Club (all dates).
The Vamps recently released their latest single from their highly anticipated new album Night & Day (Day Edition), Just My Type. The brilliant accompanying video premieres today and can be viewed here. The video was filmed in Morocco and directed by the extremely talented Declan Whitebloom who has previously worked with Taylor Swift , Rita Ora and Jess Glynne.  
The British four-piece release Night & Day (Day Edition) on 13th July and will feature 10 new songs, including past single Personal with Maggie Lindemann and Too Good To Be True with Danny Avila and Machine Gun Kelly. The album will also include 8 bonus tracks from the Night Edition including the global smash hit All Night, which has had 342 million streams on Spotify. The CD and iTunes version of Night & Day (Day Edition) will come with a free concert DVD / download.
To promote the forthcoming album release, The Vamps will visit 6 cities around the UK for in-store signings and exclusive performances. Fans can catch them at HMV Birmingham (13th July),  HMV Manchester (14th July), HMV Edinburgh & HMV Glasgow (16th July), Banquet Records Kingston (17th July) and HMV Reading (19th July).
The Vamps are one of the most successful British bands, achieving a huge amount of success and acclaim all over the globe. The Vamps have picked up over 2 billion streams globally and have 8.4 million monthly listeners and 1.7 million followers on Spotify. They are also one of the most watched artists on YouTube, with over 600 million video views. Their most recent album Night & Day (Night Edition) scored the top spot on the Official Albums Chart and also stormed into the Top 10 on iTunes in over 20 countries including Argentina, Philippines, India and Australia. As well as their phenomenal record sales, they also have a huge live following. The Vamps have done 4 European arena tours and have sold out the O2 Arena multiple times. Their most recent tour saw them sell over 100,000 tickets. They are also a force to be reckoned with on social media, with over 6 million likes on their Facebook, over 4.2 million followers on Twitter, 2.3 million followers on Instagram.
The Vamps are Brad Simpson (Vocals, Guitar), James McVey (Guitar), Connor Ball (Bass) and Tristan Evans (Drums). Disclaimer: Please note that Level 3 is accessible by stairs only. Some areas of Level 2 and Level 3 may not be suitable for those with mobility difficulties, those who are not comfortable with heights or those who experience vertigo. We anticipate you should receive your tickets at least 21 days prior to the event you are attending. Thank you for your patience.
14+ in Pods / no restriction in Seating