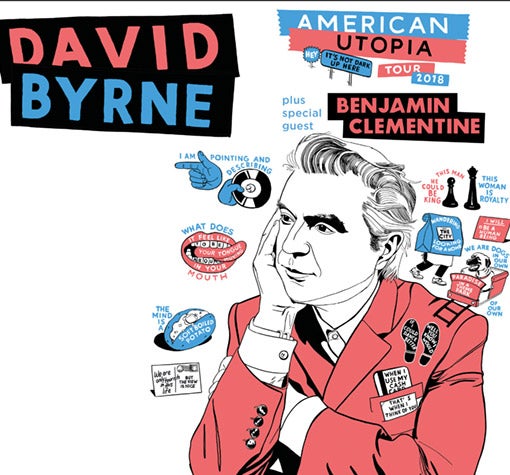 6:30pm Mon 22 October 2018
Event Information
Pre-sale 10am Wednesday 13 June 2018
On sale 10am Friday 15 June 2018
Plus special guest Benjamin Clementine
Coinciding with the a sold out run of UK dates beginning this week, David Byrne has announced additional dates on his American Utopia World Tour, including nine arena dates in the UK and Ireland in October and November, as well as seven dates in Australia and New Zealand in November.
Byrne will be performing songs from his critically acclaimed album American Utopia, as well as classics from his solo career and his days with Talking Heads. A twelve-piece band will also join Byrne on stage for an Annie-B Parson choreographed concert that he has called "The most ambitious show I've done since the shows that were filmed for Stop Making Sense." Annie-B Parson also choreographed the St. Vincent and David Byrne collaboration tour around Love This Giant.
The American Utopia World Tour began in the US in March, before moving on to Chile, Argentina, Uruguay, Brazil, Mexico, Canada and back to the US (including one of the highlight sets at this year's Coachella). The European leg of the tour begins on June 14 in the UK with six sold out concerts, followed by dates in the Czech Republic, Croatia, Austria, Germany, Netherlands, France, Poland, Denmark, Belgium, Portugal, Spain, Switzerland, Italy, before returning to North America for additional dates from July to October. Currently totalling over 80 performances, the full list of upcoming tour dates around the world can be found here.
Praise for the American Utopia World Tour:
'Already the toast of Coachella, Byrne's new road show was a knockout.'
– David Fricke, Rolling Stone
'One of the most inspired, intriguing, energetic and joyful concerts in recent memory. To call it unique hardly does it justice.'
– Calgary Herald
'It's honestly hard to believe the amazingness of Byrne's live show. Byrne radiates a joy while performing that few – if any – musicians can match.'
– Seattle Weekly
'Decades into his career, Byrne remains an unpredictable, vital artist. There aren't many who can say that.'
– LA Weekly
'A marvel of staging and motion that was at once utterly novel and oddly comforting, the evening proved a celebration of Byrne's music at its most rhythmic and transcendent.'
– Chicago Tribune
American Utopia World Tour Band:
David Byrne: vocals
Chris Giarmo: backing vocals
Tendayi Kuumba: backing vocals
Karl Mansfield: keyboard
Angie Swann: guitar
Bobby Wooten: bass
Mauro Refosco: Tamborim Tree, sh
aker
Davi Viera: bongos
Gustavo Leite: conga
Tim Keiper: bells/metalwork
Aaron Johnston: bass drum, snare, hi-hat
Daniel Freedman: bass, snare / hi-hat
Following his only other UK show this year at Latitude, Benjamin Clementine will be Byrne's special guest for the UK and Irish dates. Clementine also recently completed a run of North American dates on Byrne's tour. Byrne explains, "I was introduced to Benjamin Clementine's music through a friend. I was floored! I asked him to perform in the 2015 Meltdown Festival I curated in London and am honored to have him join me at various stops along the American Utopia Tour!" Disclaimer: Please note that Level 3 is accessible by stairs only. Some areas of Level 2 and Level 3 may not be suitable for those with mobility difficulties, those who are not comfortable with heights or those who experience vertigo. We anticipate you should receive your tickets at least 21 days prior to the event you are attending. Thank you for your patience.
Under 14s with an adult / no under 5s