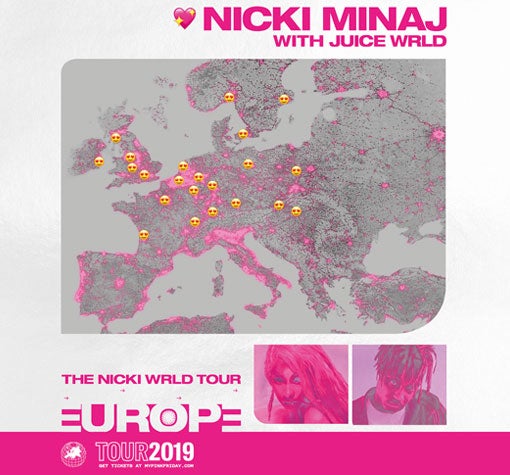 Event Information
Pre-sale 10am Wednesday 13 June 2018
On sale 10am Friday 15 June 2018
Global hip-hop icons Nicki Minaj and Future announce they'll be hitting the road together for the first time on their NickiHndrxx tour today. 
The NickiHndrxx tour will be a can't miss outing for fans of the hitmakers who dominate the modern hip-hop and mainstream charts. The multi-award winning artists are also known for their high energy performances of their chart-topping hits. Together, they are bound to bring the heat to the stage for an unforgettable night on this massive joint tour. The extensive outing will touch down in 50 cities across North America (produced by Live Nation) and Europe, kicking off September 21 in Baltimore, MD. It will include stops in major markets at iconic venues throughout Toronto, New York, Los Angeles, Munich, Paris, London, and more.
Upholding an unbreakable hot streak, Future just executive produced and curated the Superfly Official Soundtrack Album in addition to co-producing the film. The Atlanta hip-hop luminary and trendsetter is readying more new music for release very soon.
Minaj is set to release her anxiously awaited fourth full-length studio album "Queen" on August 10th. Disclaimer: Please note that Level 3 is accessible by stairs only. Some areas of Level 2 and Level 3 may not be suitable for those with mobility difficulties, those who are not comfortable with heights or those who experience vertigo. We anticipate you should receive your tickets at least 21 days prior to the event you are attending. Thank you for your patience.
Standing over 14s