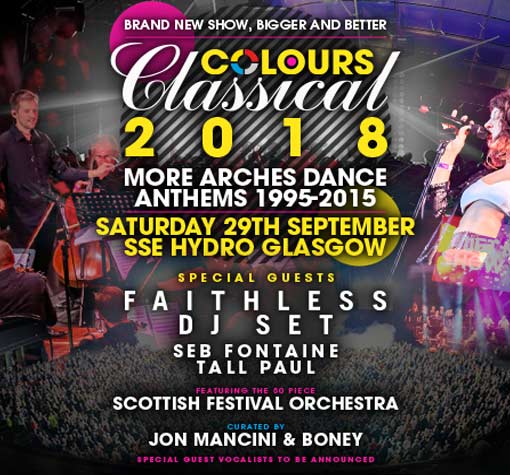 6:30pm Sat 29 September 2018
Event Information
Pre-sale 10am Wednesday 23 May 2018
On sale 10am Friday 25 May 2018
Colours Classical returns on Saturday 29th September for the second edition of the huge hit show. Expect even more dance anthems heard at The Arches from 1995-2015, trust us when we say that the track listing is the stuff dreams are made of!
Expect uplifting, hands-in-the-air anthems from some of the biggest artists in dance music. Faithless will perform a special DJ set before the main show, you know this is going to be something special indeed. Tall Paul & Seb Fontaine will be back once again also, getting you right in the mood for one of the best nights of your life.
Colours Classical is an event you should be more than excited about, don't leave it too late to get your tickets. Disclaimer: Please note that Level 3 is accessible by stairs only. Some areas of Level 2 and Level 3 may not be suitable for those with mobility difficulties, those who are not comfortable with heights or those who experience vertigo. We anticipate you should receive your tickets at least 21 days prior to the event you are attending. Thank you for your patience.
16+ only - seats and standing