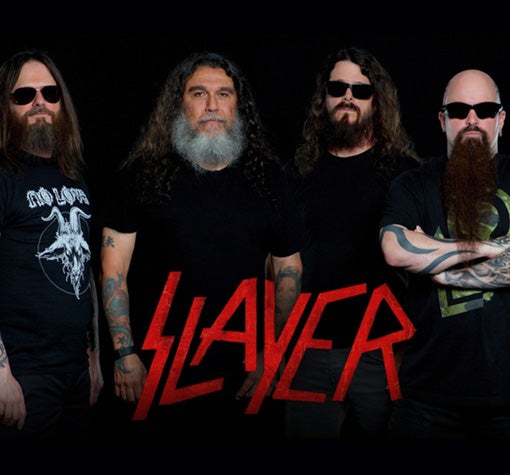 7:00pm Mon 12 November 2018
Event Information
Pre-sale 9am Wednesday 16 May 2018
On sale 9am Friday 18 May 2018
Having made some of the most brutally aggressive music ever created, being one of four bands that defined an entire musical genre and the band other heavy acts are measured against and aspire to…after nearly 37 years, having released 12 studio albums, multiple live recordings, compilations, live video and box sets, playing nearly 3000 concerts across the globe, receiving countless awards including five Grammy nominations and two Grammy Awards, Gold certifications and other accolades…having its own exhibit in the Smithsonian Institute, gracing hundreds of magazine covers and experiencing the devastating loss of a founding brother, the age of SLAYER, one of the greatest and most legendary bands of all time, is coming to an end.
Late last year SLAYER announced that it will undertake one last tour round the world to thank their fans for all of their support over the years.
LAMB OF GOD, ANTHRAX and OBITUARY will support across the UK & Europe. Disclaimer: Please note that Level 3 is accessible by stairs only. Some areas of Level 2 and Level 3 may not be suitable for those with mobility difficulties, those who are not comfortable with heights or those who experience vertigo. We anticipate you should receive your tickets at least 21 days prior to the event you are attending. Thank you for your patience.
Standing - over 14s only (under 16s with adult)