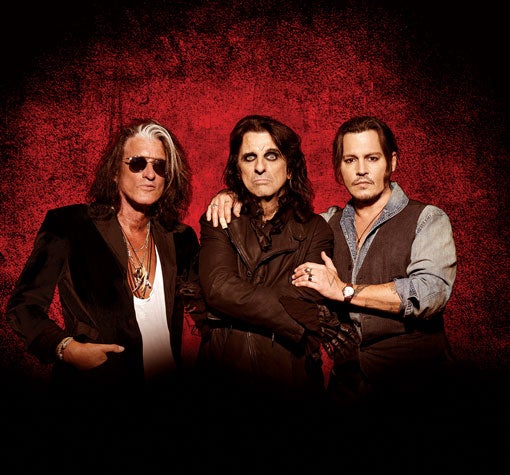 Event Information
Hollywood Vampires announce a run of four huge tour dates in the UK. Hollywood Vampires - Alice Cooper, Joe Perry and Johnny Depp – always deliver, and organised their schedules for 2018 to give their fans what they really want – more Vampires!

What started with an intimate, star-studded show at the Roxy Theatre in Los Angeles for family and friends resulted in the Vampires wanting to play as much as possible, trekking across the globe during their short summer break before Joe, Alice, and Johnny had to return to their day jobs. That wildly successful summer tour in 2016 took them to more than 23 cities and 7 countries - traversing the world from Verona to New York to Bucharest and headlining festivals such as Rock in Rio to more than 100,000 fans.

Joining Hollywood Vampires on their UK tour will be some of their rock star friends and modern-day Vampires, who will be revealed soon. Disclaimer: Please note that Level 3 is accessible by stairs only. Some areas of Level 2 and Level 3 may not be suitable for those with mobility difficulties, those who are not comfortable with heights or those who experience vertigo. We anticipate you should receive your tickets at least 21 days prior to the event you are attending. Thank you for your patience.