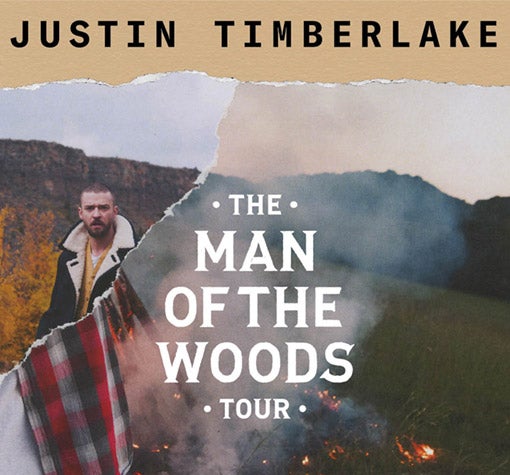 Event Information
EXTRA DATE ADDED - FRIDAY 06 JULY 2018!
Pre-sale 12noon Wednesday 21 February 2018
On sale 9am Friday 23 February 2018
Following the release of his highly anticipated album Man of the Woods and his epic Pepsi Super Bowl LII Halftime Show performance, Justin Timberlake has announced European and U.K. The Man Of The Woods Tour dates, as well as a second leg of North American dates due to sell out shows. European and U.K. dates will kick off June 22 in Paris and make 16 stops including London, Amsterdam, Stockholm, Copenhagen, Berlin, and more.
In addition to second shows already announced in 10 North American cities, Timberlake will add a new fall leg with an additional 31 new shows across the U.S. and Canada including second and third shows in Chicago, Toronto, New York City, Los Angeles, Las Vegas, Boston, Philadelphia, Washington, Houston, Dallas, Pittsburgh, Cleveland, Atlanta and Memphis. A slew of new cities have also been announced for the new leg including Milwaukee, St. Paul, Portland, Lexington, Buffalo, New Orleans, Omaha, Kansas City, St. Louis, Indianapolis, Charlotte, San Antonio, Oklahoma City, Denver, Edmonton, Vancouver, Quebec City, and Ottawa.
The Man Of The Woods Tour has already sold over 450,000 tickets across previously announced North American dates. Produced by Live Nation Global Touring, Wright Entertainment Group, LBI Entertainment & Tennman Touring, the North American outing kicks off March 13 in Toronto.
Timberlake's fourth studio album Man Of The Woods was released on Friday, February 2. Yesterday, he performed for the third time at the most watched musical event of the year, the Pepsi Super Bowl LII Halftime Show. Timberlake's last tour was the critically acclaimed The 20/20 Experience World Tour, which sold out arenas and stadiums around the globe in 2013 and 2014. Disclaimer: Please note that Level 3 is accessible by stairs only. Some areas of Level 2 and Level 3 may not be suitable for those with mobility difficulties, those who are not comfortable with heights or those who experience vertigo. We anticipate you should receive your tickets at least 21 days prior to the event you are attending. Thank you for your patience.
Seating - all ages. Standing - over 14's only, under 16's to be accompanied by an adult