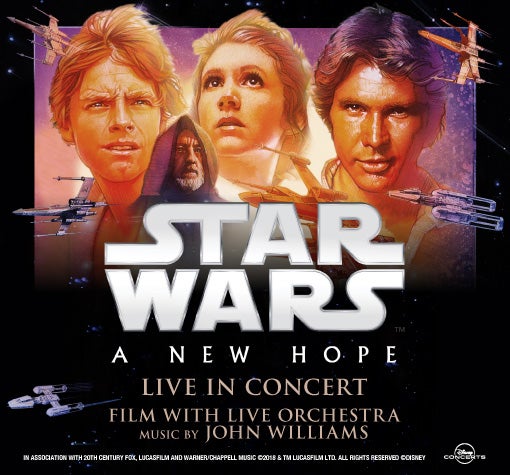 7:30pm Sun 9 December 2018
Event Information
Since the release of the first Star Wars movie nearly 40 years ago, the Star Wars saga has had a seismic impact on both cinema and culture, inspiring audiences around the world with its mythic storytelling, captivating characters, ground-breaking special effects and iconic musical scores composed by John Williams.

Fans will be now able to experience the scope and grandeur of these beloved Star Wars films in a live symphonic concert experience, as the Star Wars: Film Concert Series debuts with A New Hope.

Legendary Oscar®-winning composer Williams has had widespread acclaim and honours for his iconic scores to Star Wars and for A New Hope he earned an Academy Award for Best Original Score and it has been selected by the American Film Institute as the greatest film score of all time.

So book today to experience Star Wars: A New Hope with a live symphonic c orchestra in a way you have never been able to before.



The Star Wars: Film Concert Series is produced under license by Disney Concerts in association with 20th Century Fox and Warner/Chappell Music.

STAR WARS and related properties are trademarks and/or copyrights, in the United States and other countries, of Lucasfilm Ltd. and/or its affiliates. © & TM Lucasfilm Ltd.

©2018 & TM LUCASFILM LTD. ALL RIGHTS RESERVED © DISNEY Disclaimer: Please note that Level 3 is accessible by stairs only. Some areas of Level 2 and Level 3 may not be suitable for those with mobility difficulties, those who are not comfortable with heights or those who experience vertigo. We anticipate you should receive your tickets at least 21 days prior to the event you are attending. Thank you for your patience.