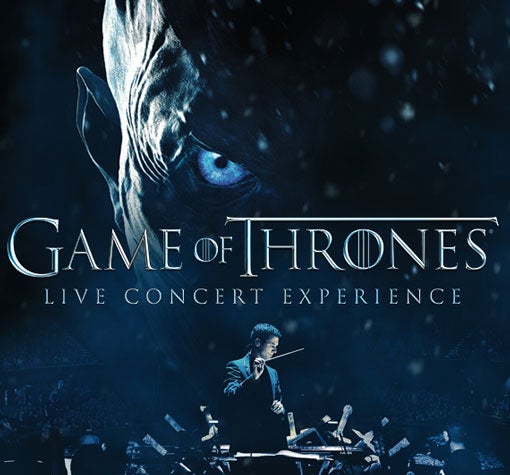 Event Information
CRITICALLY ACCLAIMED GAME OF THRONES LIVE CONCERT EXPERIENCE FEATURING RAMIN DJAWADI BRINGS THE WORLD OF WESTEROS TO GLASGOW IN SUMMER 2018
Using State of the Art Technology, Game of Thrones® Composer Ramin Djawadi Will Take Fans Of The Acclaimed, Emmy® Award-Winning HBO® Show Through The Seven Kingdoms Spanning Seven Seasons In A New, Immersive Experience
Ramin Djawadi will lead an Orchestra, Choir and Soloists in
Glasgow's SSE Hydro on 11th June 2018
THE NEW YORK TIMES – "A symphonic spectacular."
The critically acclaimed Game of Thrones® Live Concert Experience Featuring Ramin Djawadi will bring the world of Westeros to Glasgow's SSE Hydro on 11th June 2018 with tickets for the show going on sale Friday 24th November at 9am.
Fans will have the opportunity to watch in wonder as famed composer, Ramin Djawadi, leads an orchestra and choir performing music from all seven seasons of the iconic, Emmy® Award-winning HBO series. The Game of Thrones Live Concert Experience Featuring Ramin Djawadi will include new music and footage from Season 7, as well a new custom stage design and mesmerising visuals courtesy of state of the art video technology.
"Bringing the Game of Thrones Live Concert Experience to audiences earlier this year was a dream come true, dating back to an idea hatched over three years ago," said Djawadi. "The scale and spectacle of the production brought the world of Westeros to life in a truly immersive fashion, and I'm thrilled to have the opportunity to share the experience with fans across the narrow sea and bring the show to the UK."
The inaugural run of the Game of Thrones® Live Concert Experience Featuring Ramin Djawadi kicked off in North American in February of 2017 after being conceived by Djawadi three years ago. Fans and critics alike praised the show as a must-see spectacle for fans of the television series. The Guardian described the show as "Westeros brought to dazzling life." Mashable called it "an epic musical journey," while the New York Times praised it as "a symphonic spectacular."
As rich as the stories, intrigue and world of Game of Thrones®, Ramin's celebrated music for the show has resonated with fans from the very beginning, as the meticulously constructed songs underscored the emotional weight of key moments between beloved characters, lent scale to massive battle sequences and brought to life songs referenced in George R.R. Martin's books. Ramin's relentlessly popular title track alone has become an instantly recognisable pop culture phenomenon in its own right.
"Building upon the incredible response we received from the first tour earlier this year, Game of Thrones fans are in for a treat when the updated version of the Game of Thrones Live Concert Experience makes its debut in Europe and then returns to North America next year," said Jeff Peters, Vice President of Licensing and Retail at HBO. "The Game of Thrones fan base reaches all corners of the globe, so we are excited a wider international audience will now be able to experience Ramin's extraordinary talent."
The tour, produced and promoted exclusively by Live Nation and DF Concerts in partnership with HBO Global Licensing, will continue to use innovative music, tour production, and video technology that will recreate the various realms found throughout Westeros and Essos. As well as this, the tour will showcase footage from the show in addition to new imagery created exclusively for the upcoming tour dates.
Ramin Djawadi's previous credits include the Grammy®-nominated score for Marvel's 2008 blockbuster, Iron Man. Other film credits include Pacific Rim, Clash Of The Titans and Warcraft. In addition to Game Of Thrones®, Ramin also garnered Emmy® Award nominations for other television projects including the hit HBO® series Westworld, Flash Forward (ABC) and Prison Break (FOX).
Based on the bestselling fantasy book series by George R.R. Martin, Game of Thrones® is an epic story of treachery and nobility set on the continent of Westeros, where summers and winters can last years, and only the lust for power is eternal. The Emmy®- and Golden Globe Award-winning series has captured the imagination of fans globally, making it one of the most popular shows on television. Disclaimer: Please note that Level 3 is accessible by stairs only. Some areas of Level 2 and Level 3 may not be suitable for those with mobility difficulties, those who are not comfortable with heights or those who experience vertigo. We anticipate you should receive your tickets at least 21 days prior to the event you are attending. Thank you for your patience.
Over 14s only / Under 16s must be accompanied by an adult.