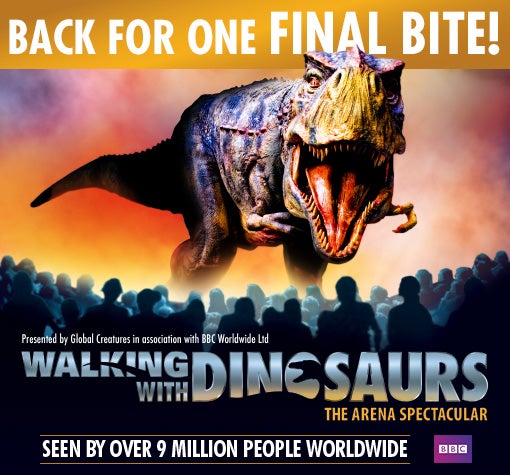 Event Information
Seen by over 9 million people in more than 250 cities around the world, WALKING WITH DINOSAURS - The Arena Spectacular, is back. Starring Michaela Strachan be amazed and thrilled as the greatest creatures ever to walk the earth return.

The dazzling $20 million production features new, state of the art technology, making this the biggest and best dinosaur show in the world. Watch them walk, hear them roar, and see their fight for survival and supremacy depicted in almost cinematic realism.

WALKING WITH DINOSAURS is the must-see live arena experience for audiences of all ages, so book your tickets now… before they become extinct!

*Please note Michaela Strachan will appear at all performances with the exception of 11am shows Disclaimer: Please note that Level 3 is accessible by stairs only. Some areas of Level 2 and Level 3 may not be suitable for those with mobility difficulties, those who are not comfortable with heights or those who experience vertigo. We anticipate you should receive your tickets at least 21 days prior to the event you are attending. Thank you for your patience.