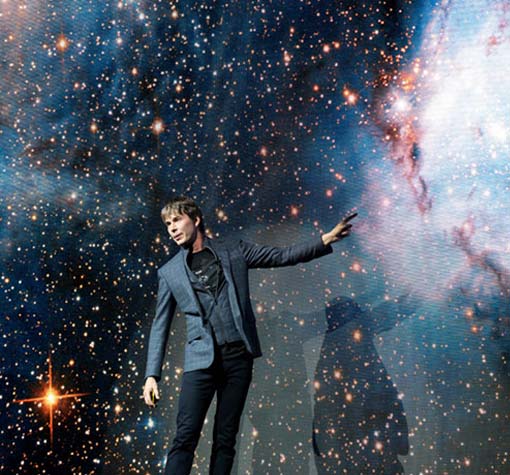 6:30pm Tue 19 February 2019
Event Information
Having set two Guinness World Record titles with his previous sell-out live UK and Ireland tour, Professor Brian Cox, OBE is heading back out on the road with a brand new show for 2019.
Taking audiences to the edge of our current understanding about the origin and evolution of our Solar System and the Universe, Professor Brian Cox Live 2019 offers a fascinating insight into the workings of nature at the most fundamental level. Whether an avid science reader or a total novice, Professor Cox makes challenging ideas accessible to all, exploring the vast, possibly infinite universe and our place within it from earth to the edges of the cosmos. Brian will once again be joined by co-host of The Infinite Monkey Cage and award-winning comedian Robin Ince to oversee an audience Q&A, giving fans the chance to ask any question they have.
'Cox proves – and it's a consolation to learn – that our imaginations can still be put through gigantic paces.'
The Guardian
'It's through great communicators like Brian Cox…that learning about the mysteries of the universe continues to be one of the great pleasures of life.'
Liverpool Echo
'Unmissable'
Daily Record
'Is your brain hurting yet? Because mine certainly was, but in beautifully, mind-expanding sort of way…We came away with a new found of love of the basics of science and maths, and a thirst to learn more'
Express and Star
'Full of quirky moments, riveting experiences and some truly, truly abominably amazing information… If at all you get the opportunity to view this spectacular show, I heartily recommend it.'
Yorkshire Evening Post
Disclaimer: Please note that Level 3 is accessible by stairs only. Some areas of Level 2 and Level 3 may not be suitable for those with mobility difficulties, those who are not comfortable with heights or those who experience vertigo. We anticipate you should receive your tickets at least 21 days prior to the event you are attending. Thank you for your patience.
All ages (under 16's accomp by adult)