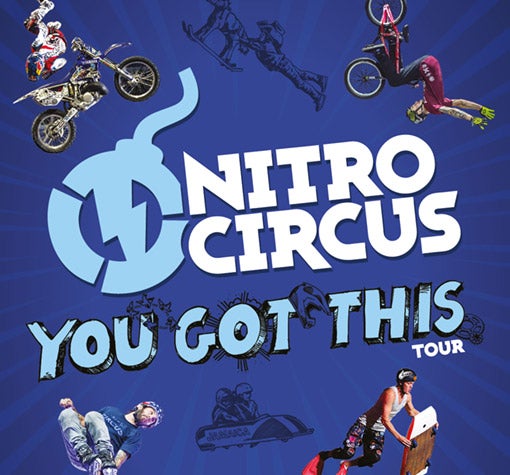 6:30pm Wed 21 November 2018
Event Information
TRAVIS PASTRANA & NITRO CIRCUS GEAR UP FORALL NEW YOU GOT THIS TOUR
Global Action Sports Phenomenon Announces
10 High-Adrenaline European Shows for 2018
Nitro Circus' biggest moments, and some of its most notorious stacks, have come from the mind of action sports icon Travis Pastrana. For the Nitro Circus ringleader, pushing the envelope is just another day at the office. Pastrana also has an uncanny ability to encourage the Nitro crew to go big or go home… In some cases despite their better judgment! Now with the 2018 You Got This tour, Travis and company will ramp up the shenanigans with the greatest, craziest, funniest show in Nitro Circus history.
"Nitro Circus is turning me loose! With You Got This, I'm putting all of my best - and worst - ideas into one huge show. Everything I've ever wanted to see live, we're taking on the road," Pastrana says. "Expect bigger, brand-new ramps and even more ridiculous stunts. It's going to be unreal. Look out, though. There might be a few rough landings."
Nitro Circus: You Got This will feature Travis Pastrana along with the best athletes in FMX, BMX, Scooter and Inline, including multiple X Games medalists and several Nitro World Games champions. Pastrana will lead this all-star international roster as they attempt both never before seen tricks and undoubtedly ill-advised stunts in an audacious all-new production complete with huge new ramps and outrageous contraptions. This show will be wide open, with more thrills, more excitement and more irreverence than ever before.
"You Got This is more than a tour, it's a mindset," Pastrana explains. "As Nitro's ringleader, one of my jobs is to inspire guys to push themselves to go further, farther and faster than they thought they could. Sometimes, maybe more than they should! It's a challenge, no doubt. But one we live for." Disclaimer: Please note that Level 3 is accessible by stairs only. Some areas of Level 2 and Level 3 may not be suitable for those with mobility difficulties, those who are not comfortable with heights or those who experience vertigo. We anticipate you should receive your tickets at least 21 days prior to the event you are attending. Thank you for your patience.
All ages